North American pay TV providers recently experienced their worst quarter ever, losing nearly a half million subscribers. But where are these subs going for video services? Recent figures point to Internet TV. Juniper Research, for example, projects that subscriber numbers to over-the-top TV services such as Netflix and Amazon Prime will increase from 92.1 million in 2014, to 332.2 million globally by 2019. Netflix alone will generate $31.6 billion by 2019, up from just under $8 billion in 2014. The recent Netflix Earnings Call provides a revealing portrait that points out challenges and opportunities that reflect the state of the industry.
The following excerpts come from Netflix CEO Reed Hastings and chief content officer Ted Sarandos. Visit TheStreet to access the full transcript (in text or audio).
Hastings on the future of Internet TV:
Restricting the comments to U.S., it's fundamentally that Internet TV is better than linear TV. The consumers can watch when they want, on what type of device they want, and the content has just gotten better and better. So the fundamental confidence about the large scale is because on demand is a better experience than linear. And the entire market is going to move from linear to on demand, Internet television, over the next 10 to 20 years.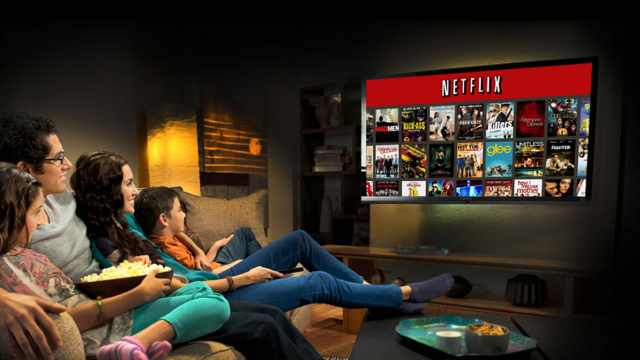 Hastings on competition:
We've competed against cable and satellite, and we've competed against YouTube and all kinds of pay-per-view and DVD. So there's a lot of ways to consume entertainment. And despite all of those, Netflix keeps growing because we keep improving. So that's why we feel good about next year, both domestic and especially international. We're really big on everybody has got to get into streaming. It's been our main message for several years that what is known as channels is going to become apps, and that all of these providers need to have great apps, on a phone, on a tablet, on a TV.
Hastings on the need for great content:
What we see is, if we have great content, then consumers watch our service and enjoy it and tell their friends about it. And it kind of doesn't matter that there's also a great sports game on, or there's also shows on Verizon or on Comcast. So part of the reason that we may seem a little blasé (about competition) is that it really hasn't affected us. What has affected us is when we have a great show like 'Narcos' that just takes the world by storm. So that's what we're focused on, how do we have more incredible shows.
Sarandos on dealing with the studios and networks:
I think the media business is absolutely in flux. As Reed said, you've had this growing move of away from linear and towards on demand, both watching and spending. So the future of how the networks and studios deal with Netflix and Hulu and Amazon Prime Instant Video is certainly going to determine their future… So what we're seeing is more chatter, but roughly business as usual. But of course some caution, caution that's been around since we've been licensing streaming content.
Sarandos on news and sports:
On the news side, we definitely are being more adventurous in terms of the genres that we're going into. We're getting ready to launch Chelsea Handler's talk show early next year. That's our first move into talk. Kind of aimed at the same kind of thing, more of a weekly talk show. Where most of our things have been very long shelf life movies and television series. So I think it's a very similar migration or certainly exploration. And in sports, I think we're in the same place. Which is, there's a lot of irrational bidders for sports. We're not anxious to become another one.
Sarandos 0n securing global rights deals:
Sometimes the rights are fragmented in their ownership. But in the cases of the deals we did this past quarter, they were controlled by one entity. And typically sold by multiple regions, and we corralled the deals into the corporate offices, and were able to license the world on those titles. Titles that we think will have great global appeal. So I think the growth, the opportunities, the challenges of Netflix are all global. So that having a lot of regional discussions around the world isn't that efficient, and it turns out that tastes are rather global too. So it's actually really well lined up.
Hastings on bundling pay TV services:
I could imagine future bundles emerging, once there's a whole bunch of apps. And as you go through this industry change now — next probably 3, 5, 10 years — where there's a lot of discrete offerings, everybody's improving their brand value. And then you get to a maturing phase of the market, and then there's some consolidation which could be acquisitions, it could be other things or it could be bundles. But the next couple years, when you have this new phase of the market, I think everyone's just racing to make a great app like Netflix, like HBO Now, those things.
Related:
Netflix Subscriber Growth Disappoints in U.S., The Wall Street Journal, 10/14/15
Netflix Indicates It Will Launch Vice-Like News Product, The Hollywood Reporter, 10/14/15
Topics:
Amazon Prime
,
Bundling
,
Cable TV
,
Chelsea Handler
,
Comcast
,
David Wells
,
HBO Now
,
Hulu
,
Internet TV
,
Juniper Research
,
Licensing
,
Narcos
,
Netflix
,
North America
,
On Demand
,
OTT
,
Pay TV
,
PPV
,
Prime Instant Video
,
Reed Hastings
,
Satellite
,
Smartphone
,
Sports
,
Streaming
,
Subscription
,
SVOD
,
Ted Sarandos
,
Television
,
Verizon
,
Video
,
YouTube