Dish's Sling TV is launching a cloud DVR feature, to better compete with Sony PlayStation Vue and other companies that already offer that capability. The new feature will allow consumers to record TV shows and movies for later viewing, and is slated to go into beta in December, according to Sling. The beta test is at first only available to those accessing Sling TV through Roku devices. To sweeten the deal, Sling says its recordings will not expire after 28 days, the length of time that PlayStation Vue saves them.
TechCrunch reports that Sling's DVR will offer "conflict-free recording, as well as the ability to pause, rewind, and fast-forward through your recorded content," although DVR functionality is not available on all channels.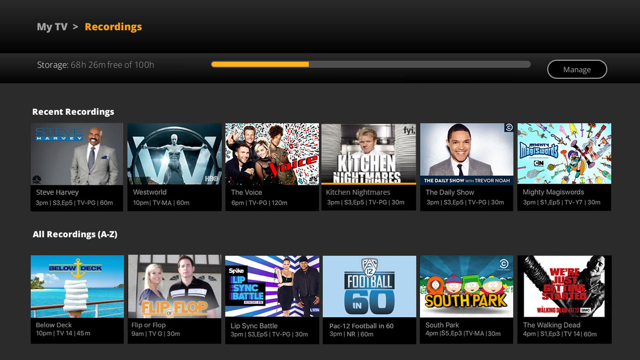 According to Sling's announcement, in addition to the ability to "record multiple programs simultaneously, with no recording conflicts," the cloud DVR will integrate content onto the user's "My TV" screen for easy access and "automatically manage your DVR space to make room for new recordings by deleting the oldest 'watched' recording when capacity is full."
Beta customers will receive 100 hours of storage for free. Sling says it is also "working on more DVR features," specifically on the ability to upgrade cloud DVR storage, which, notes TechCrunch, "implies the DVR may come to represent a new revenue stream for Sling TV in the future."
Sling customers interested in being considered for the beta test can apply on the Sling site. The company says it will take customer feedback into consideration as the product develops.
On the same day that Dish made its announcement, AT&T revealed details of its own live TV service, DirecTV Now. Hulu is also planning a live streaming TV service for Q1 2017.
Topics:
AT&T
,
Beta Test
,
Cloud
,
Cloud DVR
,
DirecTV
,
DirecTV Now
,
Dish
,
DVR
,
Hulu
,
Internet
,
Live Streaming
,
Live TV
,
Movies
,
OTT
,
PlayStation Vue
,
Revenue
,
Roku
,
Sling TV
,
Sony
,
Storage
,
Streaming
,
Television
,
TV Shows
,
Video
,
Video Recorder