Following this week's news of a first-of-its kind licensing agreement between Disney and the Dish Network, DirecTV said it is in similar talks to license the rights to offer Disney channels as part of an Internet-based product. The rights are part of a larger programming deal that would replace a current agreement slated to expire in December. In related news, Verizon CEO Lowell McAdam said he expects to reach a streaming deal with Netflix and hopes to partner with content providers for a broadband-only video service.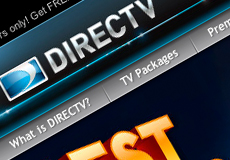 "The deal and terms are not unexpected as the Dish contract was the most recent in the Disney timeline to expire," DirecTV spokesman Darris Gringeri said yesterday. "The DirecTV contract is up next and we're in the process of working with Disney on a similar long-term agreement of our own."
"A new pact could give both Disney and DirecTV, the No. 1 satellite operator, an additional revenue source as consumers gravitate toward online video services such as Netflix and watch more television online," reports Reuters.
"The agreement between Dish and Disney marked the first time that a U.S. pay TV operator has been given the flexibility to offer its content over the Web through smartphones, tablets and computers outside of a pay TV subscription."
Verizon's McAdam spoke at the Morgan Stanley Technology, Media and Telecom Conference in San Francisco this week, suggesting the company is very interested in partnering with content companies in order to deliver "mobile content to subscribers of Verizon's FiOS pay TV service and a wireless broadband service to consumers," according to The Hollywood Reporter.
McAdam said entertainment companies "realize that the pie now grows if they go over the top… We are going to work with them and find a model." While content companies have been reluctant to upset the traditional pay TV ecosystem, McAdam believes "there are ways to launch a new service without hurting existing pay TV offers," notes THR.
Verizon recently announced it would purchase Intel's online TV startup OnCue.
Topics:
Agreement
,
Broadband
,
Broadcast
,
Cable
,
California
,
Channel
,
Conference
,
Content
,
Deal
,
DirecTV
,
Dish
,
Disney
,
FiOS
,
Gringeri
,
Intel
,
Internet
,
License
,
Licensing
,
McAdam
,
Mobile
,
Model
,
Morgan Stanley
,
Netflix
,
Network
,
OnCue
,
Online
,
Operator
,
OTT
,
Pact
,
Partner
,
Pay
,
Pay TV
,
Program
,
Programming
,
Provider
,
Rights
,
San Francisco
,
Series
,
Show
,
Stream
,
Streaming
,
Technology
,
Telecom
,
Television
,
TV
,
Verizon
,
Video
,
VOD
,
Wireless