A new report released by the Motion Picture Association of America during CinemaCon this week in Las Vegas points to good news as movie industry revenues around the globe increased four percent from 2012 to 2013. While revenue from U.S. and Canada box offices were only up one percent, the global increases suggest that the movie industry has been able to survive during the ongoing threat of online piracy. Revenue in China also increased, the country that sits on top of the piracy list.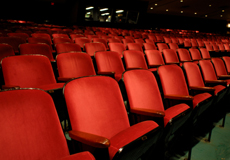 It is good news that American movies reached over $3 billion in movie sales in China, despite the restriction of the number of foreign-made films allowed to release in theaters to 34, and the immense amount of piracy in the country. MPAA has placed China at the top of its list for "most notorious" market for distributing pirated content.
The MPAA report ranked websites and technologies used to distribute illegal copies of movies and TV shows based on the amount of Web traffic.
"The MPAA list includes peer-to-peer networks, BitTorrent portals, infringing download and streaming hubs, linking websites and newsgroups, as well as physical markets located in the Ukraine, Australia, Canada, China, Indonesia, Ireland, Brazil, Russia, Thailand, Mexico and India," reports the Los Angeles Times.
"The criminals who profit from the most notorious markets through the world threaten the very heart of our industry and in doing so threaten the livelihoods of the people who give it life," wrote the MPAA's Michael O'Leary. "These markets are an immediate threat to legitimate commerce, impairing legitimate markets' viability and curbing U.S. competitiveness."
"While the U.S./Canada box office for the year was $10.9 billion (an uptick of just 1 percent from 2012), led by blockbusters like 'The Hunger Games: Catching Fire' and 'Iron Man 3,' the meteoric rise of the international marketplace has driven the industry's massive profitability," notes Ars Technica. "The international market now constitutes 70 percent of all revenue, up from 64 percent in 2009."
Topics:
America
,
Association
,
Australia
,
BitTorrent
,
Brazil
,
Business
,
Canada
,
China
,
CinemaCon
,
Content
,
Criminal
,
Data
,
Decrease
,
Distribution
,
Film
,
Global
,
Increase
,
India
,
Indonesia
,
Industry
,
International
,
Ireland
,
LA Times
,
List
,
Market
,
Mexico
,
Motion
,
Movie
,
MPAA
,
Music
,
North
,
Notorious
,
Office
,
Online
,
O'Leary
,
P2P
,
Picture
,
Piracy
,
Profit
,
Release
,
Report
,
Revenue
,
Russia
,
Series
,
Show
,
Study
,
Survey
,
Television
,
Thailand
,
Threaten
,
Trend
,
TV
,
Ukraine
,
US