Comcast developed X1, a voice-controlled remote technology that allows its subscribers to search, similar to virtual assistants from Amazon and Apple. Now chief executive Brian Roberts has a good reason to roll it out: the Rio de Janeiro Olympics. NBC plans to broadcast every event live on TV or online — a programming equivalent of 24 hours a day for 250 days — and X1 will make it all searchable, by event, athlete or country. Subscribers can even get alerts when an American is close to winning gold.
According to Bloomberg, "X1 lies at the heart of Comcast's strategy to keep its 22.4 million cable subscribers from cutting the cord for online alternatives like Netflix and Hulu." "This is the future of television," says Roberts, who points out that, with X1, the Olympics will be "individualized, personalized and on every device."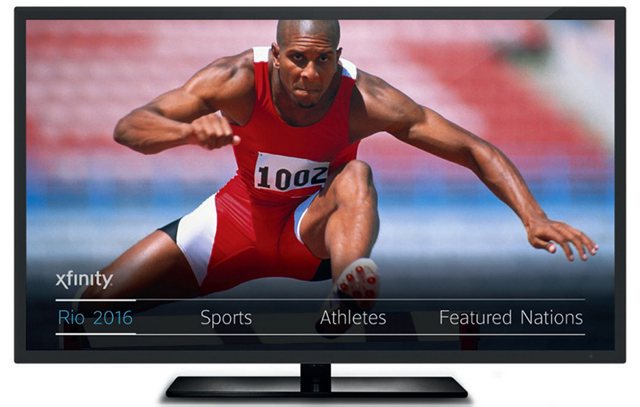 "For the first time since 1994, you can unequivocally say that cable has the best video offering in the marketplace — better than satellite and telco," adds MoffettNathanson analyst Craig Moffett.
More than 1,000 Comcast employees are working on X1 in Denver, Washington, Silicon Valley and Philadelphia, all of who take a week off from their regular jobs every three months to work on projects that could become new products. Comcast president of technology Tony Werner says that one such idea that is now a feature "lets subscribers record anytime someone says anything on TV."
Five years ago, Comcast won the bid for Olympics broadcast rights at $4.4 billion, and then, in 2014, paid $7.75 billion more to extend the term through 2032. This year, NBC has generated more than $1 billion in advertising for the 17-day Olympics, and X1 "could boost ratings" for the network.
Comcast is building a 59-story lab in Philadelphia, designed by the architect who built Apple's new campus, that will include an incubator for startups and "the workspace for thousands of Comcast's techies."
Although Comcast's subscription rates aren't cheap and a growing number of alternatives to cable rival its offerings, Comcast is "betting customers will keep paying for cable if they can get more programming and have a simple way to find it."
Related:
Comcast Made a TV Series About Watching TV to Promote its TV Streaming Service, The Verge, 6/22/16
Topics:
21st Century Fox
,
Advertising
,
Amazon
,
Apple
,
Brian Roberts
,
Broadcast
,
Cable
,
Comcast
,
Comcast X1
,
Cord Cutting
,
Craig Moffett
,
Disney
,
Hulu
,
MoffettNathanson
,
NBC
,
Netflix
,
Olympics
,
Philadelphia
,
Remote Control
,
Rio de Janeiro
,
Search
,
Sports
,
Subscribers
,
Summer Olympics
,
Television
,
Tony Werner
,
Virtual Assistant
,
Voice Controlled