Comcast issued a statement this morning that the proposed merger with Time Warner Cable has officially been terminated. "Today, we move on," noted Comcast Chairman and CEO Brian Roberts. "Of course, we would have liked to bring our great products to new cities, but we structured this deal so that if the government didn't agree, we could walk away." Reports had circulated in recent days that a merger of the country's two largest cable operators was ending as Comcast faced intense regulatory scrutiny regarding the $45.2 billion acquisition.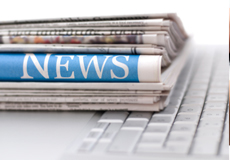 "Comcast NBCUniversal is a unique company with strong momentum," added Roberts. "Throughout this entire process, our employees have kept their eye on the ball and we have had fantastic operating results. I want to thank them and the employees of Time Warner Cable for their tireless efforts. I couldn't be more proud of this company and I am truly excited for what's next."
Roberts first announced the proposed deal in February 2014. While the federal approval process was slow moving, the merger recently faced increased scrutiny by the Federal Communications Commission and Justice Department.
Critics of the deal were largely concerned about the potential impact on competition, pricing and diversity of expression. Insiders had also suggested that the Justice Department was concerned about restraints that could possibly be placed on television networks, such as not allowing content to be distributed through standalone streaming services.
"Had the deal been approved, the combined company would have controlled as much as 57 percent of the nation's broadband market and just under 30 percent of pay television," according to The New York Times. "Opponents portrayed Comcast's takeover effort as a land grab that would have given the company too much leverage in the industry, and over the last year lawmakers, consumers, public advocacy groups and media and technology companies rallied against the merger."
NYT reports in a follow-up article that FCC Chair Tom Wheeler said the decision to end the deal was a good move for consumers.
"Today, an online video market is emerging that offers new business models and greater consumer choice," said Wheeler in a statement. "The proposed merger would have posed an unacceptable risk to competition and innovation, including to the ability of online video providers to reach and serve consumers."
Related:
Comcast Plans to Drop Time Warner Cable Deal, Bloomberg, 4/23/15
Comcast Plans to Walk Away from TWC Deal, USA Today, 4/24/15
Comcast and Time Warner Cable: What Happens Next?, Fortune, 4/23/15
Topics:
Acquisition
,
Brian Roberts
,
Broadband
,
Broadcast
,
Cable
,
Comcast
,
Competition
,
Diversity
,
FCC
,
Internet
,
ISP
,
Justice Department
,
Merger
,
NBCUniversal
,
Pay TV
,
Pricing
,
Regulation
,
Regulatory
,
Service Provider
,
Streaming
,
Subscriber
,
Subscription
,
Television
,
Time Warner Cable
,
Tom Wheeler
,
TWC
,
Video