Despite attempts by tech companies to make the Internet more accessible to people around the world, especially to those living in developing countries, the Internet's growth has been decelerating. Facebook and Google have both invested in technologies such as satellites, drones and high-altitude balloons to deliver global Web access. However promising these efforts have been, global Web access has proven to be more contingent on whether people deem the Internet useful in the first place.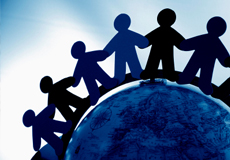 Only a few years ago, Google Executive Chairman Eric Schmidt "predicted that the entire world would be online by the end of the decade," The Wall Street Journal reports. Given actual Internet growth results for the last few years, Schmidt's prediction seems rather unlikely. Today, there are nearly 4 billion people without access to the Internet, which is equivalent to two-thirds of the world's population.
On a global scale, the growth of Internet users has been underwhelming especially when compared to years prior. WSJ references a study by McKinsey & Company, which shows that "growth of world-wide Internet users slowed to a compound annual growth rate of 10.4 percent from 2009 to 2013, down from 15.1 percent between 2005 and 2008."
One of the major challenges that tech companies did not necessarily anticipate was that so many people would not only be uneducated about the Internet's full capabilities, but also that people would lack motive to use the Web at all.
"According to a 2014 study sponsored by Google, 35 percent of women in Indonesia, India, Malaysia and the Philippines don't see any reason to go online," notes WSJ.
A different Google study in India further brought light to the issue by revealing that some first time Internet users wouldn't know how to begin making use of Google's search or what to even look for.
And so in addition to finding ways to make Web access more affordable, tech companies are also aiming to bundle their Internet services with useful content. "Facebook made an Internet.org app for Zambia that includes information on weather, local jobs and women's organizations, in addition to Facebook's social network," WSJ explains.
Meanwhile, Google hosted a conference for businesses in major cities throughout Indonesia to better educate people about how to best utilize the Web.
Topics:
Eric Schmidt
,
Facebook
,
Google
,
Google X
,
India
,
Indonesia
,
Internet
,
LDCs
,
Local Content
,
Malaysia
,
McKinsey & Co.
,
Mechanized Drone
,
Philippines
,
Project Loon
,
Satellite
,
Search
,
Social Media
,
Zambia