For those yearning for a VR headset with higher resolution and a wider field of view, Chinese startup Pimax may have the solution. The company's latest headset is marketed as 8K with laser tracking that works with HTC Vive's base station and offers a 200-degree field of view, which is nearly double what other headsets offer. The resolution, in fact, is only 7,680 x 2,160 (not true 8K, which would be 7,680 x 4,320), but the company explains that a much higher horizontal resolution is most important — and it is an industry first.
Engadget suggests that a better description of the headset, which is priced starting at $499 and expected to ship in January 2018, would be "Pimax 4K Duo," because each eye is looking at a 4K panel at 90Hz refresh rate.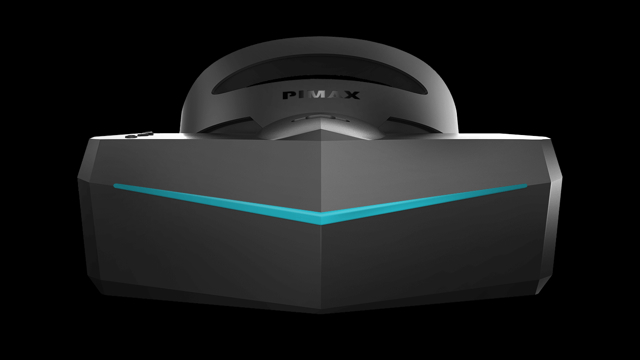 Unlike PlayStation VR, the HTC Vive and the Oculus Rift, which all use OLED, the Pimax 8K uses CLPL or "customized low persistence liquid" panels, which it claims has "completely eliminated ghosting and improved brightness." Engadget adds that, "CLPL and OLED apparently only have some minor differences in terms of contrast and color temperature, but the former can achieve a higher pixel density for the same cost."
In addition to the $499, consumers will also have to put down $300 for the controllers and base stations, which are slated for a February delivery.
The Pimax headset was shown at CEATEC "running on an MSI laptop equipped with an Nvidia GTX 1080 GPU," because it is "actually designed for 4K input or less (the prototype was using HDMI, but the final version will likely use DisplayPort instead)" and then internally upscales it to 8K. "This means your PC could get away with using just an Nvidia GTX 980 or GTX 1070, and you'd still be able to enjoy the invisible pixel grid on the displays."
The device, says the reviewer, was comfortable to wear and didn't have a black border, which made it more immersive. "As expected, I could not see any sub-pixels thanks to the insanely high display resolution, nor did I notice any ghosting." The demo featured only a 2,560 x 1,440 output, but was still "significantly better" than the imagery on other VR headsets.
Pimax also offers the 8K X that inputs an 8K signal; the special model is "made for the hardcore users who plan to use the headset with at least an Nvidia GTX 1080 Ti (pending further testing but may require SLI configuration) or the next-gen Nvidia Volta, and the headset will likely have two DisplayPorts — one for each 4K panel."
The 8K X, priced at $649, "is no longer available," and "its backers will have to wait for May." Under development are "inside-out tracking, eye tracking, wireless transmission, scent and more." Pimax is also creating a "more affordable" Pimax 5K "based on the same headset design but hous[ing] two 2,560 x 1,440 CLPL panels instead."
Topics:
4K
,
8K
,
Base Station
,
CEATEC
,
China
,
CLPL
,
Controller
,
DisplayPort
,
Eye Tracking
,
Facebook
,
Field of View
,
FOV
,
GTX 1070
,
GTX 1080
,
GTX 980
,
HDMI
,
HTC Vive
,
Inside-Out Tracking
,
Laser Tracking
,
MSI
,
Nvidia
,
Nvidia Volta
,
Oculus Rift
,
OLED
,
Pimax
,
PlayStation VR
,
Refresh Rate
,
Resolution
,
Sony
,
Virtual Reality
,
VR Headset