Virtual reality has been on a major roll … at least until this year. When Oculus executives sold their startup to Facebook in 2014 for about $3 billion, VR was riding high. The purchase prompted tech giants such as Google and Microsoft to speed up their VR headset development, and sparked a wave of investments and new startups. But this year, interest in VR has arguably slumped, as some consumers seem to have grown disappointed. Oculus has not helped the sentiment, since it has not revealed any official figures about Rift sales, but still very much believes in the technology's potential.
VentureBeat quotes Nate Mitchell, one of Oculus' co-founders, about the situation. "We did build up a lot of hype, and we really believe in all that hype — the potential for VR, VR as a computing platform," he admitted. "This is going to be a transformative thing. But everyone's expectations got ahead of themselves, maybe not Oculus, but definitely in the media."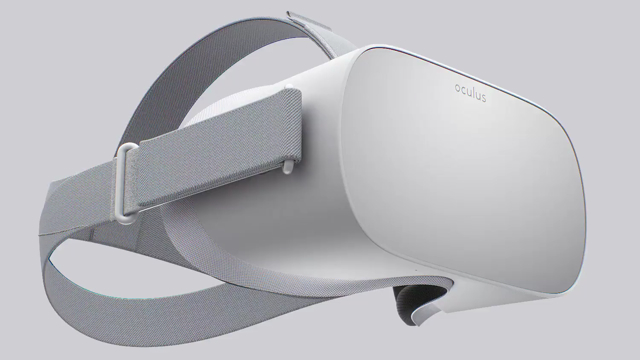 Mitchell believes that just because VR headset sales haven't gone through the roof "doesn't mean the technology is a failure." "Our goal is to continue growing the ecosystem of users and developers every single year," he said, noting the recent debut of the standalone $199 Oculus Go headset (above), which doesn't require a PC or smartphone.
Oculus chief technology officer John Carmack "echoed Mitchell's assessment, suggesting expectations for the headset to fall between Rift and Gear VR sales." Earlier in 2017, Samsung reported that it has sold "more than 5 million Gear VRs." Gear VR is priced at $129 "but it is often bundled free with the sale of Samsung phones."
Elsewhere, VentureBeat interviewed Oculus Studios head Jason Rubin about games for VR. Currently, Oculus is working with (and funding) Respawn Entertainment (which made "Titanfall") for a "major VR game coming in 2019."
Rubin says finding a partner to create VR games wasn't hard: "My team has simply had to create a financial framework and other frameworks that work for developers." He called the upcoming game "an indication of our dedication to the Rift." Noting the presence of Ubisoft, ZeniMax, Bethesda and Rockstar in the VR game market, Rubin added that "it's getting harder to find developers and publishers that aren't in this marketplace."
In answer to a question as to whether Oculus games will target the hardcore gamer or the casual gamer first, Rubin answered that it depends on the platform. "We like to put out a large breadth of content wherever we are," he said. "That doesn't only mean games. That means a lot of non-games." He pointed to "Coco" as "a social experience," and added that, "people who have 970-equivalent graphics cards right now tend to be hardcore gamers," who gravitate to difference content. But the cost of "a 970-equivalent graphics card" could go down dramatically in five years and change the environment.
"We're going to rely both on our high-end, high-budget, extremely talented, large teams, as well as the small independent developers, to continually, incrementally make things better and more interesting," he said. "These things all roll together and become the language of making games in VR."
Related Video:
Oculus' John Carmack Explains Virtual Reality in 5 Levels of Difficulty, Wired, 10/16/17
Topics:
Bethesda Game Studios
,
Casual Gaming
,
Coco
,
Developers
,
Facebook
,
Gaming
,
Gear VR
,
Google
,
Jason Rubin
,
John Carmack
,
Microsoft
,
Nate Mitchell
,
Oculus
,
Oculus Go
,
Oculus Rift
,
Oculus Studios
,
PC
,
Respawn Entertainment
,
Rockstar Games
,
Samsung
,
Smartphones
,
Titanfall
,
Ubisoft
,
Video Games
,
Virtual Reality
,
VR Headsets
,
ZeniMax Media