ETC's George Gerba and Don Levy spent Thursday navigating the Las Vegas Convention Center's Central Hall looking for unique products from major exhibitors at CES 2022 that would be of special interest to the entertainment industry. They found a Hisense ultra-short throw projection TV, a Samsung TV with an adjustment capability that would be useful in-camera as well, Fraunhofer tech for adjusting the volume of dialog separately from other audio in a consumer device, a winged drone with impressive flight duration and speed, and a few other products of note.
Hisense is showing a 120-inch ultra-short throw projection TV that utilizes three laser technology (RGB) and delivers 100 percent BT 2020 coverage (good for HDR), and 4000 ANSI lumens (screen brightness up to 430 nits). One attendee described the colors as "insane!" The projector has a built-in Harman Kardon customized audio solution with rollable speakers and a separate wired subwoofer. We take this as evidence that Hisense is now designing products that compete with the top tier of consumer electronics brands.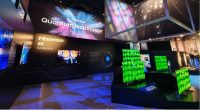 Even more impressively, the projection TV has built-in blending projection display technology that supports NxN multi-screen blending. Hisense showed two 120-inch projection TVs side-by-side that seamlessly blended into one ultra-wide display.
Hisense also showed a ULED 8K display (model U800) with quantum dot color, full array local dimming, and Dolby Atmos. The company's 8K variant of the TriChroma TV is powered by an 8K imaging chipset with embedded artificial intelligence that combs through every visual scene pixel by pixel to optimize the picture, and also hosts 20,000 mini-LED partitions to enhance definition and contrast. This display is probably more for the professional market than the consumer market.
One of the new extras in Samsung's 2022 Neo 4K and 8K QLED line is Shape Adaptive Light Control, which reduces stray illumination by analyzing on-screen objects and shaping the light to match. Another, called Object Depth Enhancer, employs more processing to further distinguish the objects from the background. (For more details, check out the CNET coverage.) We believe that this ability to micro-correct the image could be extremely useful to the professional community if it becomes available in-camera or in post applications.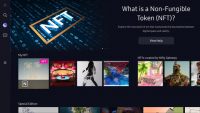 Samsung has noticed a new emerging market, and is pitching its 8K panels as good platforms for showcasing your NFTs. "The platform, which will be available on Samsung's MicroLED, Neo QLED and The Frame models, allows users to browse and buy NFTs directly from their sets," reports Engadget. "The platform pulls in NFTs from several marketplaces, so users can preview the art and see other relevant details, like who created the work, as well as relevant blockchain metadata."
Fraunhofer demonstrated a capability that consumers have craved for years, the ability to adjust the volume of dialog separately from music and background audio. The MPEG-H Audio technology will allow consumers to choose from presets or create their own settings for both broadcast and streaming audio. It is now possible, for example, to switch between different languages, adjust the volume of a sports commentator, enhance the dialogue, and choose from several audio description options.
Autel Robotics showed its Dragonfish Series of vertical takeoff winged drones. The drone is modular, waterproof, smart and reliable. It can stay aloft up to 180 minutes — far longer than quadcopters — and travel up to 180 km per hour. It has powerful AI tracking capabilities, a built-in 4K video and 50X optical zoom, an 18 mile range, and a multitude of modular payload options.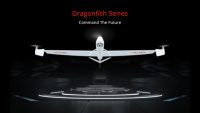 Shenzhen Lochn Optics Technology is a leading Chinese manufacturer of optical waveguide and diffractive waveguide components for AR glasses manufacturers. At CES, the company showed 14 form factors of waveguides, up from six form factors in the current catalog. We take this as an indicator that the industry is gearing up for rapid growth and adoption of AR products in the near future.
As was widely reported prior to CES 2022, top TV manufacturers such as LG, Sony, Panasonic and others have a greatly reduced presence on the show floor. In a clever move, LG Electronics virtually presented its new consumer electronics products in the 2,000-square-foot eco-friendly booth constructed of recycled and recyclable materials.
Visitors download an app at the entrance of the booth that enabled them to take a self-guided tour. Using QR codes positioned on cubes where kiosks would have been, the visitors could see AR versions of the products that would have been displayed.
For more on CES 2022:
CES Hashtag — #CES2022
CES Twitter Handle — @CES
CES Facebook Page — facebook.com/CES
Topics:
4K
,
8K
,
Artificial Intelligence
,
Audio
,
Augmented Reality
,
Autel Robotics
,
Blockchain
,
CES 2022
,
CTA
,
Dolby Atmos
,
Don Levy
,
Drone
,
ETC@USC
,
Fraunhofer
,
George Gerba
,
HDR
,
Hisense
,
LG Electronics
,
Mini-LED
,
MPEG-H Audio
,
NFT
,
Panasonic
,
QLED
,
Samsung
,
Shenzhen Lochn Optics
,
Sony
,
Television
,
The Frame
,
ULED