During CES 2022, Qualcomm president and chief executive officer Cristiano Amon announced that the company intends to focus on the connected intelligent edge, which he says is a $700 billion market. "We're becoming the partner of choice for the edge," he declared. "We continue to see momentum across key opportunities." The company's momentum encompasses next generation Arm PCs, virtual and augmented reality, including a continued partnership with Meta, wireless fiber and the automotive sector. The latter includes new deals inked with Volvo, Honda and the Renault Group.
"The shift to PC on Arm is gaining ecosystem momentum with Snapdragon," said Amon. "We have broad support from Acer, HP, Microsoft, Lenovo and Asus." He added that 200 enterprises are testing or deploying Windows PC with Arm Snapdragon. "To access data at high speed from the cloud from wherever you are is becoming important," he said.
Qualcomm continues to have a footprint in virtual and augmented reality via its ongoing partnership with Meta, and Amon noted the growing Chinese AR and VR market, "which will continue to increase scale in the next few years."
He announced an expansion of Qualcomm's collaboration with Microsoft to accelerate this market sector. "We're developing a custom AR Snapdragon chip for the Microsoft ecosystem," he stated. "The Microsoft Mesh platform and the Snapdragon Spaces platform will be fully integrated into the platform, enabling next-gen lightweight glasses to help AR gain scale."
Amon also addressed the potential of wireless fiber. "Wireless fiber and how we should think about 5G in the long-term offers exciting opportunities ahead," he said. "5G including millimeter wave is a universal last-mile technology. It will connect phones, AR glasses, PCs, mobile gaming devices, our smart IoT devices — and it also is a technology for the last mile."
He announced a new partnership with AT&T, which is "looking at 5G as a core technology not just for backhaul but direct broadband access." "The technologies we're developing is making that a reality," he said. "We're at the beginning of that transition."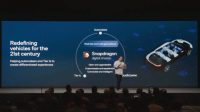 Qualcomm made numerous announcements regarding use of its digital chassis in the automotive sector. Amon noted that the Renault Group news follows on the heels of similar partnerships with BMW, Cadillac, Honda and Alpine.
"We are redefining direct relationships with Tier 1s and the automotive industry to build real digital chassis," said Amon, differentiating it from the traditional development of platform development by core companies. "Why not create an additional platform that can scale from entry level cars to premium ones and can be a platform for innovation?" he asked. "We're about building a chassis with all the cloud-connected capabilities integrated in the car and that's resonating with the industry."
The digital chassis, which will be open, upgradeable and customizable, includes the Snapdragon Ride Vision System enabling autonomous cars, its auto-connectivity platform and digital cockpits with cloud-to-car services. Volvo Cars chief production officer Henrik Green announced that his company is working with Qualcomm to launch its flagship SVU with the Snapdragon processor to power the entertainment system.
"A whole chassis approach rather than individual components powers real-time engagement with the vehicle's surroundings," Amon noted. The Snapdragon Ride platform will be available in vehicles by 2024.
For more on CES 2022:
CES Hashtag — #CES2022
CES Twitter Handle — @CES
CES Facebook Page — facebook.com/CES
Topics:
5G
,
Acer
,
Alpine
,
ARM
,
Asus
,
AT&T
,
Augmented Reality
,
BMW
,
Cadillac
,
CES 2022
,
Cristiano Amon
,
Edge Computing
,
Henrik Green
,
Honda
,
HP
,
Lenovo
,
Meta
,
Microsoft
,
Microsoft Mesh
,
mmWave
,
Qualcomm
,
Renault
,
Snapdragon
,
Snapdragon Ride
,
Snapdragon Spaces
,
Virtual Reality
,
Volvo
,
Wireless