During CES 2022, Hyundai Motor Company presented a compelling vision of the future that blends the metaverse, the Internet and robotics to make time, distance and the distinction between the physical and virtual worlds irrelevant. The company's media event started with videos of a robotic platform concept that could be built into furniture for dynamically reconfigurable rooms. The platform technology could also carry people in personal mobility pods and power autonomous vehicles. Hyundai describes its vision as the "unlimited mobility of things."
From there, Hyundai discussed its partnership with advanced robot maker Boston Dynamics and Microsoft's cloud and AI division. Together they are developing a vision of the future that involves digital twins and physical avatars.
With digital twins, Hyundai envisions people experiencing simulations of locations and work environments that are driven by AI technology and delivered via the Microsoft cloud.
For physical avatars, actual robots such as Boston Dynamics' Spot dog robot would be the physical proxy or telepresence device for a person. The use case example was Spot exploring the surface of Mars while a person on Earth saw, heard, and felt everything Spot experienced via an immersive display and haptic feedback devices.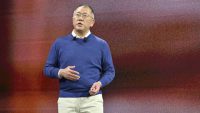 "With our robotics we will expand human reach," explained Hyundai Motor Group executive chair Euisun Chung (above). Vehicles are already transforming into living spaces. Hyundai envisions its future evolving from moving physical things to transporting our senses.
"Robotics will create a horizontal connection across our business areas and create new business systems that we call the unlimited mobility of things," said Chung. "Like the metaverse, it builds a bridge between the physical world and new virtual realities."