With a focus on sustainability, accessibility and personalization across its offerings, LG Electronics debuted a suite of smart TVs and appliances. Company chief executive William Cho, who hosted a press conference at CES 2022 today in Las Vegas, emphasized "an enhanced lifestyle and a better future for all." "We have stories about innovation and progress and also about values that never change," he said. Futuristic products included CLOi, a door-to-door delivery robot and LG OMNIPOD, a mobile office for autonomous vehicles.
LG Display debuted OLED.EX based on its "deuterium and personalized algorithm-based 'EX Technology'," which is an acronym of Evolution and eXperience. OLED.EX boosts brightness 30 percent compared to conventional OLED displays. Bezel width is also reduced from 6mm to 4mm, 30 percent based on a 65-inch display. Beginning Q2 this year, LG Display will begin to integrate OLED.EX technology into every OLED TV display.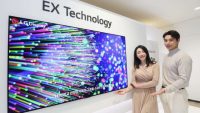 LG also introduced its LG OLED evo Gallery Edition TV and LG StanbyME (below), a wireless private mobile wireless home display that can be placed anywhere in the home. The LG Ultra Gear gaming set-up turns TVs into a gaming screen with no additional hardware.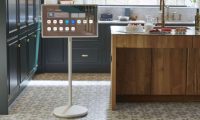 In addition, LG Display debuted Transparent OLED solutions for a range of use cases. Due to OLED's self-emissive nature, OLED is transparent enough to replace glass. LG is demonstrating this with its Shopping Managing Showcase and Show Window (below) for shopping malls, Smart Window for offices, transparent OLED for subways and OLED Shelf for home interiors.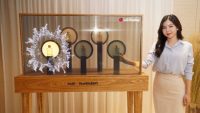 Also on display is its 17-inch foldable OLED for laptops. LG Display unveiled IPS Black, a premium LCD technology for IT products that offers a black level 35 percent deeper than existing IPS products. It's being shown at CES as a 27-inch UHD monitor.
Upgradeable home appliances based on LG's ThinQ platform enables its home appliances such as the LG PuriCare Aero air purifier, LG One: Quick Flex rotating screen for video calls, LG Ultra Gear gaming setup, LG WashTower and LG InstaView Refrigerator.
"Instead of replacing these appliances, they can evolve with AI technology, regularly receiving updates just like phones," said Cho. "It will also analyze daily usage patterns to figure out where it can add value." Other products in this space include the LG Sound Bar Eclair, LG InstaView gas ranges, LG Microwave and LG tiiun for growing herbs, vegetables and flowers.
Cho also emphasized the company's commitment to sustainability and accessibility, revealing that it has substantially reduced plastic components in all its OLED TVs and has pledged to recover eight million tons of electronic waste by 2030. As part of its inclusiveness initiative, LG has invested in Accessibility Advisory Councils in different markets and is committed to using voice commands and Braille labeling to make products easier to use for all.
The company also established the Life's Good Award, with up to $1 million in prize money for ideas that "minimize the environmental impact of human activities and make LG products more accessible and user-friendly."
For more on CES 2022:
CES Hashtag — #CES2022
CES Twitter Handle — @CES
CES Facebook Page — facebook.com/CES