At CES 2019's opening event at Mandalay Bay, CTA vice president of market research Steve Koenig aimed to whip up enthusiasm in the packed room for the technologies attendees would be seeing both at CES Unveiled, which followed this session, and on the many exhibit floors opening on Tuesday. He pinpointed the importance of 5G in bringing to full fruition many of the technologies that have been percolating at the annual CES confab over the past five years, including the Internet of Things, autonomous vehicles and 8K TV.
"We're coming to the end of the connected age," said Koenig. "All these connected endeavors were built on the digital age. In 2019, what's we're fast approaching the data age. We can already feel the approach as more business decisions are backed up by data. As you walk the show floor, everywhere you go, data will be the common denominator."
Many might argue that the age of data launched some years ago — hence the attention paid in the past couple of years to digital privacy and security of data (Europe's GDPR anyone?). No one could argue that data won't continue to be an important factor going forward. But, if this CES 2019 presentation on trends is any indication, this year will be light on significant movement forward, as we await the full build-out of 5G networks and adjacent technologies and devices to unleash the potential of everything from virtual reality and augmented reality to self-driving cars and smart homes.
CTA senior director, innovation and trends Ben Arnold (above) and director of market research Lesley Rohrbaugh added to Koenig's introductory remarks. Arnold quoted Qualcomm executive vice president Brian Modoff who said, with regard to 5G, "we spent the last 30 years connecting people — we will spend the next 30 years connecting things."
Arnold pointed out how the smart home sector will grow with the adoption of 5G connections. "The next trend for the smart home is interoperability and intelligence," he said.
Digital voice assistants are another area that's been gaining ground, said Rohrbaugh (below), who noted that they will soon be into everything from appliances and devices to cars; that more and more brands are using digital assistants as a fourth sales channel and that voice is quickly becoming the 'go to' interface. Earlier this year, CTA's study of consumer behavior with voice assistants showed that 63 percent of people use it to ask the Internet questions, 58 percent check for weather, 50 percent listen to music or podcasts, 45 percent set a timer, 32 percent call someone and 30 percent check for news/sports.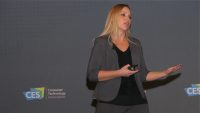 CTA's 2019 consumer tech forecast showed which technologies are continuing to take market share, with a 2 percent rise in smartphones, of which 5G smartphones will comprise 76 percent of sales by 2022; 7 percent rise in revenue for smart speakers; 17 percent uptick in smart home products; 8 percent rise in 4K Ultra HD (with 200,000 units of 8K UHD TVs); 19 percent rise in smartwatches, 9 percent in new in-vehicle tech; 25 percent in streaming services and 4 percent in drones.
Autonomous vehicles are now at the "conditional" autonomy level, said Arnold, which means "full autonomous features are there but the human driver takes over at certain times from the robot driver."
Topics:
4K
,
5G
,
8K
,
Artificial Intelligence
,
Augmented Reality
,
Autonomous Vehicles
,
Ben Arnold
,
Brian Modoff
,
CES 2019
,
CES Unveiled
,
CTA
,
Data
,
GDPR
,
Internet of Things
,
IoT
,
Lesley Rohrbaugh
,
Privacy
,
Qualcomm
,
Security
,
Smart Homes
,
Smart Speakers
,
Steve Koenig
,
Streaming
,
Television
,
Virtual Reality
,
Voice Assistants