Following several months of testing in 13 U.S. trial markets, AT&T TV launches nationwide today. The broadband service features a 4K- and HDR-capable Android-based set-top box, 500 hours of DVR storage, access to hundreds of live television channels and 40,000 on-demand titles. Streaming services such as Disney+, Netflix, Pandora, Spotify and YouTube are available, as well as 5,000+ apps through the Google Play store. Additionally, the voice-enabled remote control is integrated with Google Assistant. Chromecast support is also built in. AT&T TV will be integrated with HBO Max when it launches in May.
AT&T's television offerings include satellite broadcaster DirecTV, cable service U-Verse, live streamers AT&T TV Now and AT&T Watch TV, premium on-demand services HBO Go and HBO Now, and the upcoming HBO Max.
The new contract-based subscription service should not be confused with AT&T TV Now, formerly known as DirecTV Now. With the new subscription service, the company hopes to attract customers to make up for the significant drop in pay-TV subscribers it recently experienced with DirecTV. "AT&T lost a staggering 4.1 million video subscribers last year," reports Variety, "including nearly 1.2 million in Q4 alone."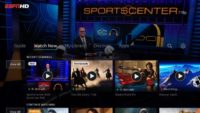 AT&T TV can be accessed through the STB for your television, and via mobile apps for Android, iOS and iPadOS. The basic tier runs $49.99 per month (check out the channel lineup).
"The base 'Entertainment' package includes local broadcast channels, ESPN, AMC, HGTV, FX, USA, and a decent selection of other cable networks," notes The Verge. "Sports fans will want to step up to the middle-tier 'Choice' channel package ($54.99), which adds regional sports networks — like all the ones that YouTube TV nearly just lost — and others such as the YES Network. The company is promoting a bundle offer that includes gigabit home Internet (where available) and AT&T TV for a combined $80 per month."
According to The Verge, "pricing goes up dramatically after 12 months of service. Entertainment goes from $49.99 to $93; Choice goes to $110; Xtra to $124; and Ultimate to $135."
"The interface boots directly into AT&T TV, as opposed to an Android TV apps page," explains the CNET reviewer. "It's clean, with big tiles throughout showcasing what's on now or different films or episodes I could watch. Google Assistant voice controls worked well. Speaking into the remote I could tell it to switch directly to a channel like HBO or ESPN, or have it search for a particular show or film regardless of whether it is on live TV, on-demand or inside apps."
Topics:
4K
,
AMC
,
Android
,
App
,
AT&T TV
,
AT&T TV Now
,
Chromecast
,
Cord Cutter
,
DirecTV
,
DirecTV Now
,
Disney Plus
,
DVR
,
ESPN
,
FX
,
Google Assistant
,
Google Play
,
HBO Max
,
HDR
,
HGTV
,
iOS
,
iPadOS
,
Live TV
,
Movie
,
Music
,
Pandora
,
Pay TV
,
Spotify
,
STB
,
Streaming
,
Subscription
,
TV Channel
,
U-verse
,
USA
,
Video
,
YouTube
,
YouTube TV