Walmart is preparing to publicly test a paid membership program, dubbed Walmart+, to complete with Amazon Prime. According to eMarketer, Walmart accounts for five percent of all U.S. online retail sales versus Amazon's 40 percent. Currently, more than half of Walmart's top spenders are also Amazon Prime members. To distinguish itself from Prime, Walmart plans to offer features that Amazon cannot, such as text messaging to place grocery orders. Walmart+ is expected to launch as a rebrand of the company's Delivery Unlimited service.
Vox reports that Delivery Unlimited "charges customers $98 a year for unlimited, same-day delivery of fresh groceries from one of the 1,600-plus Walmart stores in the U.S. where the program is available." According to sources, Walmart could change that fee or offer the service at "multiple price points."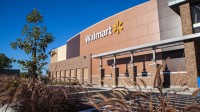 Among potential future perks are "discounts on prescription drugs at Walmart pharmacies and fuel at Walmart gas stations, as well as a Scan & Go service that would allow shoppers to check out in Walmart stores without waiting in line — a tool Walmart briefly tested but discontinued nearly two years ago."
Although Walmart's grocery business is larger than Amazon's — which offers Whole Foods and Amazon Fresh — "one fear is that top Walmart customers could eventually turn to Amazon for groceries as they get sucked further into the Prime suite of perks."
Walmart faces a formidable competitor with Amazon Prime, which has 150 million members globally, costs $119 per year, and offers unlimited one-day shipping on 10 million products as well as same-day grocery deliveries and a large streaming TV/movie catalog.
Amazon recently entered the prescription drug market in 2018 by acquiring online pharmacy PillPack and recently opened its cashierless Go market in a large store. The company added membership tiers to appeal to one of Walmart's key constituencies — "households with less disposable income" — by introducing "a monthly payment option for Prime fees in 2016, a 45 percent Prime fee discount for those on government assistance in 2017, and ways for Prime customers to pay for orders with cash."
Topics:
Amazon
,
Amazon Fresh
,
Amazon Go
,
Amazon Prime
,
Cashierless
,
Delivery Unlimited
,
eMarketer
,
Groceries
,
Membership
,
Messaging
,
Movies
,
One-Day Shipping
,
Online Retail
,
Paid Membership
,
Pharmacy
,
PillPack
,
Prescription Drugs
,
Retail
,
Scan & Go
,
Shipping
,
Subscription
,
TV Shows
,
Walmart
,
Walmart Plus
,
Whole Foods