Apple Music, the highly-anticipated $10 per month streaming music service, is launching this month with a free three-month trial for music fans. Last week, Apple's Robert Kondrk said that the company was planning to pay 71.5 percent of subscription revenue to all music owners. However, Kondrk also noted that Apple would not be paying owners during the three-month trial period. Following criticism by Taylor Swift and others, Apple changed its plans. Apple's Eddy Cue quickly explained via Twitter that Apple would make sure that artists are paid.
Apple Music is the company's "gamble to regain its place as a leader from upstarts like four-year-old Spotify," reports Bloomberg. "The plan to withhold royalties during the free trial period had been criticized by the music industry in the past weeks. Yet Apple, the maker, couldn't afford to be publicly shamed by one of the most popular pop stars just days before the introduction of the service."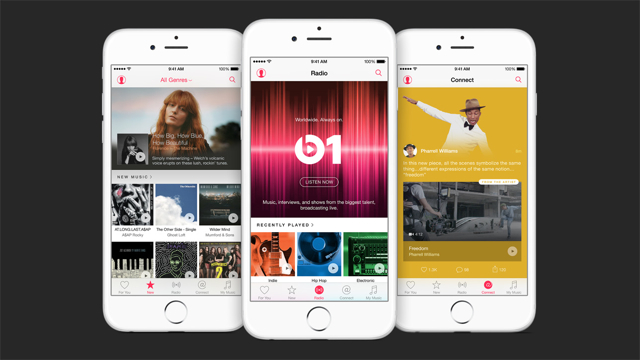 Swift threatened to withhold her music if Apple opted not to pay artists featured on the new service, slated to launch June 30.
"We don't ask you for free iPhones," she wrote. "Please don't ask us to provide you with our music for no compensation."
On her Tumblr page, Swift had described Apple's earlier decision to withhold royalties as "shocking, disappointing, and completely unlike this historically progressive and generous company."
According to Variety, "Cue's response may have headed off what could have been a bruising battle for Apple during a crucial period in which Apple Music is attempting to compete with streaming services like Spotify, which knows all too well what it's like to be on the receiving end of Swift's ire."
Related:
Apple Music Streaming Service Terms Dismay Indie Record Companies, The New York Times, 6/18/15
Taylor Swift Criticizes Apple's Terms for Streaming Music Service, The New York Times, 6/22/15
Here's What Happens to Your $10 After You Pay for a Month of Apple Music, Re/code, 6/15/15
Topics:
1989
,
Album
,
Apple
,
Apple Music
,
Artists
,
Compensation
,
Eddy Cue
,
Indie Labels
,
iPhone
,
Music
,
Music Royalties
,
Musicians
,
Record Companies
,
Revenue
,
Robert Kondrk
,
Royalties
,
Social Media
,
Songs
,
Spotify
,
Streaming
,
Streaming Service
,
Subscribers
,
Subscription
,
Taylor Swift
,
Tracks
,
Trial Period
,
Tumblr
,
Tweet
,
Twitter