YouTube TV has premiered in several cities with 40+ channels of entertainment, news and sports at $35/month. The aim is to entice so-called cord-nevers — millennials who have never paid for cable — to subscribe, to watch on-demand on any device. YouTube has already reached one billion viewers, so if even a tiny fraction signs up, it could be a win for advertisers and YouTube owner Google. Among its competition in the Internet TV market are Dish's Sling TV, AT&T's DirecTV Now and Sony PlayStation Vue.
Wired quotes YouTube vice president of content partnerships Kelly Merryman as saying that millennials "love TV programming … They just don't love the distribution."
So far, among the Internet TV competitors, analysts say Dish's Sling TV is out in front, with "about a million subscribers." The question is whether millennials who now pay nothing will flock to paying $35 per month, admittedly cheaper than a $100 cable bill.
"It's hard to get people to pay for stuff they'd already been able to get for free," said eMarketer senior analyst Paul Verna.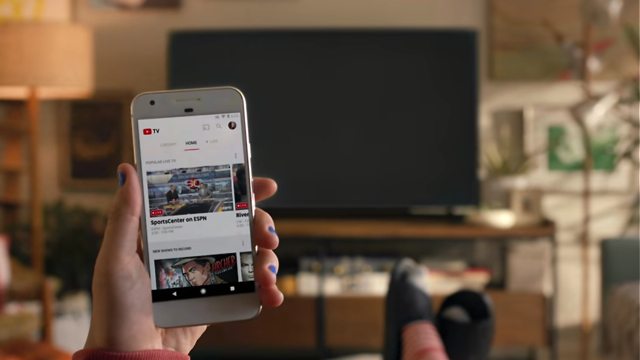 YouTube hasn't revealed "how it can afford to offer such an attractive price, nor how revenue sharing works between networks and content providers," but Wired surmises that Google is subsidizing it to get it off the ground. Ads are similar to TV ads but, says YouTube, it plans to innovate. Wired calls it "plausible" that Google could use personal data to micro-target ads.
"The application of data to traditional broadcast would make a much more sophisticated advertising product," said ID Comms chief strategy officer Tom Denford. But when it comes to content, says Denford, YouTube is "acting more like a broadcaster" than a narrowcaster, a plus in creating "shared mass-media moments … that brands and advertisers love."
The Verge reviews YouTube TV, dubbing it "a DVR to rule them all." YouTube TV on a smartphone is "impressive," it adds, highlighting the user's ability to automatically record to his or her cloud DVR, which "offers an unlimited amount of cloud storage and will save recordings for nine months at a time." That compares favorably to Internet TV competitors, which either limit space or time.
To cast the stream to a TV, the phone becomes a controller. "One of the great things about casting, now your phone can transform itself into a remote," said YouTube executive Christian Oestlien. "While you're casting you can minimize the player and start browsing again." Another "big selling point" is YouTube TV's "powerful search capabilities," no surprise given its parent company.
YouTube has "placed a special emphasis" in enabling users to organize their sports content by team or league; the TV will then automatically save all relevant games, regardless of the channel.
A monthly subscription provides "six individually personalized accounts and three concurrent streams." The Verge notes that, "you can watch stuff on mobile, but the app is really designed to work with a Chromecast or Cast-enabled television."
Related:
YouTube TV Isn't Perfect, But It's Very Promising, Gizmodo, 4/6/17
The New YouTube TV Service Looks Like a Great Deal, Consumer Reports, 3/2/17
Topics:
Advertising
,
App
,
AT&T
,
Cable TV
,
Casting
,
Christian Oestlien
,
Chromecast
,
Cloud
,
DirecTV Now
,
Dish
,
DVR
,
eMarketer
,
Google
,
ID Comms
,
Internet TV
,
Kelly Merryman
,
Millennial
,
Mobile
,
Paul Verna
,
Pay TV
,
PlayStation Vue
,
Remote Control
,
Sling TV
,
Sony
,
Subscriber
,
Subscription
,
Tom Denford
,
YouTube
,
YouTube TV