Apple is debuting a standalone video app called Apple Clips that allows users to shoot, edit and share video clips for mobile phones. Apple Clips, for iOS 10.3 or higher, features real-time captioning and facial recognition as well as giant emoji, cartoon filters and lively title screens — and the end results can be distributed to iMessage contacts. Automatic captioning, dubbed Live Titles, allows the user to choose a font and style; after hitting record, the app transcribes speech to text. But less ideal features mar the app, say critics.
The Wall Street Journal notes that, "many of the app's biggest features are so unintuitive, it took me nearly 45 minutes to make my first 10-second video." Another complaint is that, "all movies made in Clips are square," rather than vertical, horizontal or another shape, which limits what can fit in the frame.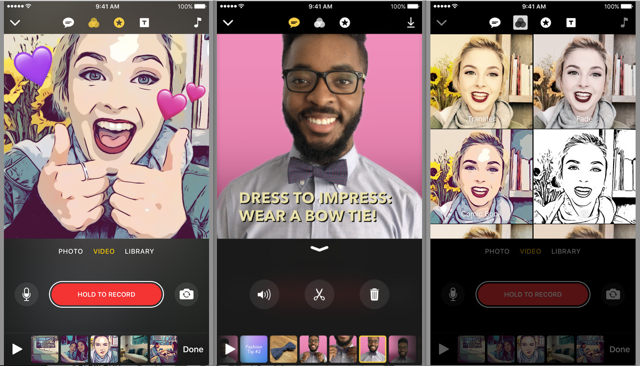 Even Live Titles has bugs, with transcription errors even when recording in a quiet studio. Although the text can be edited later, "figuring out how is like cracking the Enigma code." Apple does plan on a help section to explain features.
On the positive side, the cartoon filter "is the best free street caricature you'll ever get," and it's easy to add stickers and emoji, by dragging them to the desired spot and pinching them to make them bigger or smaller. Users can write a title screen and add a music score from their own collection or from Apple's royalty-free songs (which includes a track from noted film composer Hans Zimmer).
Tapping the share icon will save the video to the phone, or the user can send it straight to Facebook or Instagram, with Apple suggesting iMessage contacts. That includes people in the video that Apple has identified via its facial recognition, "assuming you've named them in the Photos app."
"There aren't any real differences between the iPhone and iPad version of the apps, though the company is positioning the tablet version a bit different, offering a quick and easy way to make presentations for classrooms using the tablet," notes TechCrunch. "It's easy to see how the app might have a second life as a simple video editing solution for education."
Topics:
App Store
,
Apple
,
Apple Clips
,
Captioning
,
Cartoon
,
Emoji
,
Facebook
,
Facial Recognition
,
Filter
,
Hans Zimmer
,
iMessage
,
Instagram
,
iOS
,
iOS 10.3
,
iPad
,
iPhone
,
Live Titles
,
Mobile
,
Mobile Video
,
Music
,
Photo
,
Social Media
,
Speech Transcription
,
Speech-to-Text
,
Stickers
,
Video