Apple's $3,499 Vision Pro headset will begin shipping in early 2024, CEO Tim Cook announced Monday at WWDC, calling it a device for "spatial computing." The company's new visionOS operating system is described as a mashup of iOS, macOS and tvOS, designed for "an entirely new universe of apps for Vision Pro," according to Apple. Unity was revealed as the principal development engine for Vision Pro content. The upcoming headset, powered by Apple's high-end M2 chip, supports 4K resolution and features embedded audio pods. The company emphasized gaming and streaming services, in addition to productivity and communication.
The Vision Pro "has three-element lenses that enable 4K resolution, though you can swap out lenses, presumably for different vision capabilities," writes CNET, elaborating that "audio pods are embedded within the band to sit over your ears, and 'audio ray tracing' maps sound to your position" while "a suite of lidar and other sensors on the bottom of the headset track hand and body motions." Dual displays, one for each eye, can be used to create a stereoscopic VR image.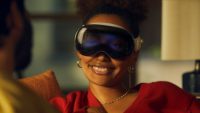 The Vision Pro is powered by the M2 chip used on Apple's highest-end computers. "But a new R1 chip processes all the other headset inputs from 12 cameras, five sensors and six microphones and sends it to the M2 to reduce lag and get new images to displays within 12 milliseconds," explains CNET, which offers a detailed specs assessment.
The Vision Pro runs on visionOS, a variation on iOS with "a 3D engine, foveated rendering and other software tricks to make what Apple calls 'the first operating system designed from the ground up for spatial computing.'"
"Vision Pro is positioned as primarily an AR device, but it can switch between augmented and full virtual reality using a dial," reports The Verge, noting that the controller-free device "supports Bluetooth accessories, including Magic Keyboard and Magic Trackpad, and lets you connect your Mac to use inside the headset."
"Unity, which helps developers incorporate advertising into their apps, was one of the companies hurt by Apple's iOS privacy changes," reports CNBC, adding that Microsoft, Cisco and Adobe are among the companies creating Vision Pro apps.
While Apple didn't mention platforms other than Unity, Vision Pro is likely to eventually support multiple engines, as does the Meta Quest 2 (which price dropped to $299 this month with news that the Meta Quest 3 will be available this fall for $350).
The Information says the Vision Pro's augmented reality feels "surprisingly fresh" compared to Meta's, adding that "by showing how iOS apps, movies and photos would look overlaid against your physical surroundings" Cook and company "did a good job of demonstrating what these headsets can do and how you can use them in everyday life."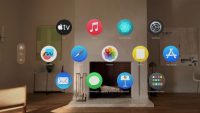 The Vision Pro will support:
Games: The platform will offer more than 100 titles from the Apple Arcade library, including "The Pathless" and "NBA 2K23," out of the box.
Entertainment: Streaming services including Netflix, Disney+ and Apple TV+ will be watchable on the Vision Pro.
Productivity: Apple has optimized the headset for iOS tools including Pages, the Numbers spreadsheet, Keynote and more.
Communication: New versions of apps like FaceTime and iMessage are coming to allow users to share thoughts and ideas in immersive and innovative ways.
One remarkable feature that will be a boon for gaming is that "experiences in Vision Pro aren't constrained by a display. They can freely fill the space around you." It's extreme immersion.
However, getting gamers to buy Apple hardware will be a feat. Leveraging the Disney relationship could provide a launch pad, and Apple made clear it is gearing up to get developers onboard. This annoucement amounted to a tease. Expect some interesting content announcements at WWDC 2024.
Initially, the Vision Pro's $3,500 price point will see it competing with Microsoft's industrial strength HoloLens 2 at the enterprise level and, as The New York Times writes, as an attraction for early adopters and developers.
Related:
Apple's Optic ID Will Let You Log In to the Vision Pro Headset with Your Eyes, Engadget, 6/5/23
I Wore the Apple Vision Pro. It's the Best Headset Demo Ever, The Verge, 6/5/23
First Impressions: Yes, Apple Vision Pro Works and Yes, It's Good, TechCrunch, 6/5/23
Vision Pro: Will It Finally Push Virtual Reality into the Mainstream or Is It a Pricey Toy?, Variety, 6/5/23
Topics:
4K
,
Adobe
,
App
,
Apple
,
Apple Arcade
,
Apple TV Plus
,
Augmented Reality
,
Cisco
,
Disney
,
Disney Plus
,
FaceTime
,
Gaming
,
HoloLens 2
,
iMessage
,
iOS
,
Lidar
,
M2 Chip
,
Meta Platforms
,
Meta Quest 2
,
Meta Quest 3
,
Microsoft
,
Mixed Reality
,
Mobile
,
Netflix
,
Streaming
,
Tim Cook
,
Unity
,
Video
,
Virtual Reality
,
Vision Pro
,
visionOS
,
WWDC