Goldman Sachs recently reported that TV ratings have dropped by 50 percent over the last ten years, "the sharpest pace on record." Ratings in the coveted 18-to-49-year-old demographic fell by 17 percent last winter compared with the previous year. Since 2004, studies have suggested that TV viewing would be one of the first leisure activities to be impacted by the Internet. However, while TV remains the dominant medium, digital natives are also turning to new forms of entertainment.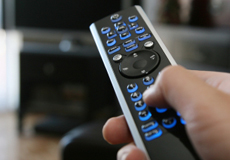 Digital natives seem to prefer other behaviors that are "more than just splitting time between TV and video games, or TV and mobile apps, or TV and online video," suggests TechCrunch. "That's why it's funny that the general assumption is that services like Netflix, Amazon Instant Video, Hulu and YouTube will eventually claim users' time and eyeballs in the way that the 'boob tube' once did."
Two compelling examples include new emerging patterns involving Tumblr and Twitter.
"What regular people out there in the world do – right now, they spend a huge amount of time in front of their televisions consuming — sort of, what do you call it — 'premium content' — stuff produced by publishers, networks, studios," Tumblr founder David Karp told Charlie Rose. "If we're not already there today, certainly five years from now, I expect the vast majority of the content that we enjoy not to be produced by a handful of creators who are selected and supported by those big studios."
The article cites crowdfunded projects on Kickstarter from Zach Braff and "Veronica Mars" or the possibility of something else entirely. "Karp obviously hopes that creators will find their way to Tumblr, and then others will 'tune in' to watch," notes TechCrunch.
"If you think of television as a fairly passive activity involving content consumption, and that content is matched up with your interests, and can be humorous, informative, inspiring, educational, and more, then Tumblr's network of interests comes closer to mimicking the same 'feeling' that TV could once provide," adds the article.
At the same time, Twitter is also transitioning from merely communication to a place for media consumption, as evidenced by recent moves to support photos, videos, apps and articles.
"But Twitter is taking a different direction than Tumblr. Instead of betting against TV's eventual decline, it's betting big on being the TV companion app," explains TechCrunch. Speaking at the recent D: All Things Digital conference, Twitter CEO Dick Costolo suggested television companies can become valuable partners for its service.
"Twitter has been busy catering to the confused and scrambling TV industry," according to the article. "The company launched TV ad targeting for Promoted Tweets, powered by its acquisition of Bluefin Labs. It announced broadcast partnerships with BBC America, Fox, Fuse and The Weather Channel, allowing networks to promote TV clips. It has also struck deals with A&E, Bloomberg TV, theAudience, ESPN, Turner Sports, the NBA, Major League Baseball, Condé Nast, Warner Music, Clear Channel, Vevo, the WWE, VICE, PMC, Discovery, and others. It has partnered with Nielsen for Twitter TV ratings."
"Twitter is the social soundtrack for TV," Costolo said at the D conference. "We've decided to invest heavily in that."
While television may not go away entirely, its inevitable change is taking place right now. And as older generations leave the market, digital natives who are increasingly cutting the cord will dictate this change. "And they might not really care for TV like their parents did, no matter how many tweets you throw at them," suggests TechCrunch. "Whether they'll continue spending their time on Tumblr or other networks, however, still remains to be seen."
Topics:
Ads
,
Advertising
,
Amazon Instant Video
,
Apps
,
Bluefin
,
Braff
,
Costolo
,
D: All Things Digital
,
Digital Native
,
Future
,
Gaming
,
Goldman Sachs
,
Hulu
,
Karp
,
Kickstarter
,
Mobile
,
Netflix
,
Nielsen
,
Ratings
,
Rose
,
Social
,
Television
,
Trend
,
Tumblr
,
TV
,
Tweets
,
Twitter
,
Veronica Mars
,
YouTube