Less then two weeks following FCC approval of its $48.5 billion takeover of DirecTV, AT&T is already rolling out plans to lure new customers. In a first-of-its kind nationwide offer to be made available August 10, AT&T is packaging wireless phone service and television for $200 per month for the first year. The "All in One" promotional plan places an emphasis on TV anywhere, featuring HDTV and DVR services across four receivers through DirecTV or U-verse, four smartphone connections including unlimited talk and text, in addition to 10GB of shared data.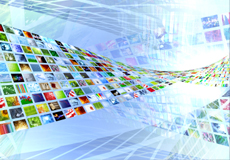 "Today is the first of many planned moves to enable our customers to enjoy a premium entertainment experience anywhere," said Brad Bentley, executive vice president and chief marketing officer of AT&T's entertainment and Internet services. "We're going to deliver more TV and entertainment choices to more screens — when and where our customers want it."
"Outside of the promotional offer, four other TV-only plans start at $50 a month, topping out at $125 depending on the channel package," notes Digital Trends. "For an extra $160 a month you can add AT&T wireless services that include 10GB of shareable data and unlimited talk and text for four phone lines."
New DirecTV subscribers can access content on mobile devices immediately at the point of sale thanks to the "walk out and watch" feature.
AT&T is betting big on television as cord cutters are forcing disruption to traditional distribution models and networks such as CBS, HBO and Showtime are launching standalone streaming offerings.
The New York Times reports: "The number of American households that pay for broadband service but not television increased 16 percent, to 10.7 million in 2014, from 9.2 million in 2012, according to the research firm SNL Kagan. The test for AT&T will be whether it will be able to persuade new customers to connect with its new offering or lure customers from its competitors."
AT&T's purchase of satellite company DirecTV will form the nation's largest television distributor, with 26 million subscribers.
Topics:
Acquisition
,
All-in-One
,
App
,
AT&T
,
Brad Bentley
,
Cable TV
,
CBS
,
DirecTV
,
Distribution
,
DVR
,
FCC
,
HBO
,
HDTV
,
Internet
,
ISP
,
Mobile
,
Movie
,
Networks
,
Pay TV
,
Satellite
,
Showtime
,
Smartphone
,
SNL Kagan
,
Streaming
,
Subscriber
,
Subscription
,
Television
,
TV Anywhere
,
TV Everywhere
,
U-verse
,
Video
,
Wireless