Greenlight VR, a San Francisco-based business intelligence startup specializing in the virtual reality industry, has created a business map of significant VR players. The rising prospects for virtual reality as a mainstream medium has seen new demand for ways of better grasping the scope and nuances of the industry's emerging and rapidly evolving landscape. The database profiles hundreds of VR businesses from around the world — from fledgling startups to the established companies entering this space — organized by 22 categories across 11 sectors.
Founded in 2014, Greenlight VR built its database using Web crawling methods to track VR news daily and extract information from the largest VR app stores. According to its CEO Clifton Dawson (a Harvard MBA and former business operations manager at Snapchat) and co-founder Howie Leibach (a brand strategist with VR expertise), the database contains profiles hundreds of VR businesses from around the world.
The oldest company profiled is Senseorama, an Ohio amusement arcade company founded in 1958 that created an early precursor to today's virtual reality experiences.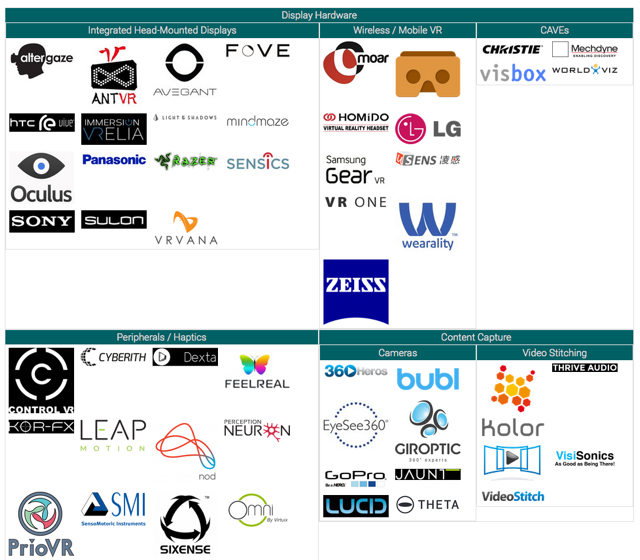 Greenlight initially focused on the overall entertainment sector but discovered that most of its client inquiries were coming from those who were new to VR, with a need for better fundamental understanding of the technology and structure of the industry.
Dawson and his team decided that creating a bird's eye view ecosystem map was the best way of offering a free information resource (sections of the supergraphic are featured above and below). The map is regularly updated, but Dawson explained that there did not seem to be much demand yet for real-time information — the level of commercial activity in the industry isn't high enough yet.
Leibach noted that one of the challenges in creating the map was that most VR companies are brand new and it is difficult to predict which ones are leaders that will have staying power.
Dawson emphasized how the sector is characterized by companies growing and operating across boundaries. Companies start out as specialized in one aspect of VR, but then evolve to encompass multiple market verticals. Oculus, for instance, started out as B2B, but now has a consumer-facing content production/story studio arm. Another challenge is that awareness of foreign ventures needs more attention — most of Greenlight's information for now comes from English language sources.
For further iterations of the map, Dawson and Leibach plan for it to become more granular (with subcategories within categories), more global, and with more attention given to non-entertainment uses of VR (such as in health, architecture, finance, etc.).
Although Dawson noted that there has been little client interest in augmented reality being included in the VR map, a separate AR map could be developed in the future.
They also intend for the map to be opened for input from the wider VR community. Dawson noted that Greenlight itself is an example of the kind of supporting business service that the VR industry needs as the sector matures, and had been lacking in the previous VR boom that faltered in the 1990s.
Topics:
3D
,
Apps
,
AR
,
Architecture
,
Augmented Reality
,
B2B
,
Cameras
,
CAVE
,
Clifton Dawson
,
Education
,
Finance
,
Gaming
,
Greenlight VR
,
Haptics
,
Harvard
,
Healthcare
,
HMD
,
Howie Leibach
,
Interactive Map
,
Mobile VR
,
Movies
,
Music
,
Oculus
,
Production
,
Real Estate
,
Research
,
San Francisco
,
Senseorama
,
Snapchat
,
Social
,
Sports
,
Tourism
,
Video
,
Virtual Reality
,
VR
,
Wearable