TV loyalty program provider Viggle, formed in 2010, announced it has acquired San Francisco-based Dijit Media, a b2b platform developer and maker of TV and movie guide apps for mobile devices. Dijit's primary consumer app is NextGuide, which combines listings from live TV and streaming services such as Amazon, Hulu, iTunes and Netflix for an automated and curated directory of movies and television shows. Financial terms of the deal have yet to be disclosed.
"Viggle is a loyalty program for television that gives people real rewards for checking into the television shows they are watching," according to the company's CrunchBase profile. "Available for Android, Apple iPhone, iPad and iPod touch, Viggle automatically identifies the television shows its users are watching and awards them points when they check-in. Viggle users can redeem their points in the app's rewards catalogue for items such as movie tickets, music, gift cards or they can convert them into charitable donations."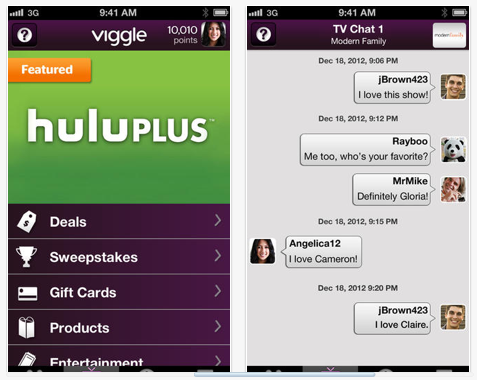 "Viggle said it plans to integrate NextGuide with its own rewards system, which will let NextGuide users be rewarded with Viggle Points — redeemable for real rewards like gift cards — for setting reminders for their favorite shows," reports Variety. "Similarly, Viggle users will have more options to earn Viggle Points by leveraging Dijit technology and services."
For the first nine months of 2013, New York-based Viggle reported $12.3 million in revenue and a net loss of $83.8 million. Last month, the company acquired Seattle-based Wetpaint for $30 million in Viggle stock. Wetpaint is a a startup that produces entertainment news, celebrity gossip and related content for TV fans.
Viggle's online properties reported more than 17 million monthly users in December.
"In other recent news in this space, i.TV acquired TV app developer GetGlue in November," notes Variety. "Viggle also had tried to buy GetGlue, but that deal fell through after Viggle couldn't raise the necessary financing. Meanwhile, Yahoo has announced that it will be shutting down its own TV companion app, IntoNow, at the end of March; the Internet media firm had acquired startup IntoNow in early 2011."
Topics:
Amazon
,
Android
,
App
,
Apple
,
B2B
,
Broadcast
,
California
,
Celebrity
,
Curate
,
Dijit
,
Dijit Media
,
Directory
,
Discover
,
Donation
,
DVR
,
Entertainment
,
Film
,
GetGlue
,
Gossip
,
Guide
,
Hulu
,
i.TV
,
IntoNow
,
iPad
,
iPhone
,
iPod
,
iTunes
,
Listing
,
Live
,
Loyalty
,
Mobile
,
Movie
,
Music
,
Netflix
,
New York
,
News
,
NextGuide
,
Points
,
Program
,
San Francisco
,
Seattle
,
Series
,
Show
,
Stream
,
Streaming
,
Television
,
Tickets
,
Touch
,
TV
,
Variety
,
Viggle
,
Wetpaint
,
Yahoo