Unity Technologies CEO John Riccitiello drew a fresh picture of the XR industry in his keynote address at the Vision VR/AR Summit 2017 in Hollywood this week (extended reality — or XR — is an umbrella term that includes VR, AR and MR). Riccitiello admonished analysts for their overly exuberant prognostications and reactionary pessimism about the VR market. He projected that XR adoption and value calculations will exceed expectations in 2023 if three conditions are met: a price point below $1,000 for all the necessary hardware; truly mobile technology; and content that can be monetized across 100,000,000 devices, at minimum.
He also forecast that behemoth studios with deep IP will not rule the roost, but will be eclipsed by small, creative companies born out of virtual immersive media.
It's not a foregone conclusion that major media companies will dominate XR, Riccitiello (below, left) told a packed room of developers and artists. "It is not the way it worked before and not the way it will work now."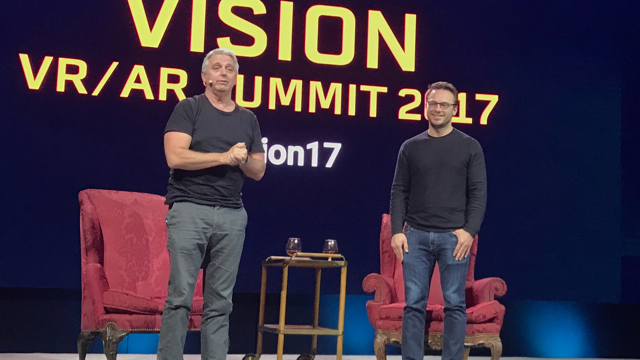 To illustrate his point, Riccitiello ticked off a list of leaders in console gaming — Electronic Arts, Activision Blizzard, Ubisoft — all companies founded to create interactive digital content, and he cited mobile powerhouses Supercell and Machine Zone, launched in response to the iPhone.
Riccitiello expressed discontent with analysts measuring VR "on the wrong curve… and that to go from zero to a $1.5 billion industry in one year is staggering."
He laid out the three criteria for success in 2023, and number one on the list was a complete hardware setup — CPUs, GPUs, headsets and controllers — for less than $1000. An untethered, fully mobile experience in which users move freely in a trusted environment is the second prerequisite.
Riccitiello assured the audience that the hardware industry was well on its way to meeting these expectations and while they have yet to share their strategies publicly, the stage was being set for greater market penetration by 2019.
According to Riccitiello, XR is the inevitable conclusion to a process that began with the advent of television. "There has been a steady progression of getting closer and closer to the experience," he said, charting the decreasing distance between viewers and their screens. "Now, phones are inches from our face and we are about to jump through the screen."
After a series of creative presentations from companies such as Facebook, Within, Baobob and NFL Films, the two-hour session concluded with an armchair discussion between Riccitiello and Oculus cofounder and current PC VR Group leader, Brandon Iribe (above, right).
True to his roots, Iribe was bullish about VR, albeit with a less ambitious timeline, but he also painted a future dominated by AR and visual virtual computing.
Topics:
Activision Blizzard
,
Augmented Reality
,
Baobob Studios
,
Brandon Iribe
,
CPU
,
Electronic Arts
,
Extended Reality
,
Facebook
,
Gaming
,
GPU
,
Headsets
,
Internet
,
iPhone
,
John Riccitiello
,
Machine Zone
,
Mixed Reality
,
Mobile
,
NFL Films
,
Oculus
,
Smartphone
,
Supercell
,
Ubisoft
,
Unity
,
Virtual Reality
,
Vision VR/AR Summit
,
Within
,
XR