NanoTech Entertainment is hoping that its 4K movie-streaming service, UltraFlix, will become the Netflix of Ultra HD. However, its immediate obstacle is a lack of 4K content, which is expected to change now that more companies are embracing the format. Consumers who already purchased a 4K smart TV from Hisense, Samsung, Sony or Vizio likely already have the UltraFlix app (next up is LG, Panasonic, Sharp and Toshiba, according to NanoTech). Competing with Netflix and Amazon could prove an additional obstacle.
UltraFlix, which is already generating positive reviews, took home the Envisioneering Innovation and Design Award at the ShowStoppers event held during the 2015 International CES. (Below: NanoTech being interviewed at Sony's CES booth for "Live with Aaron and Kelly.")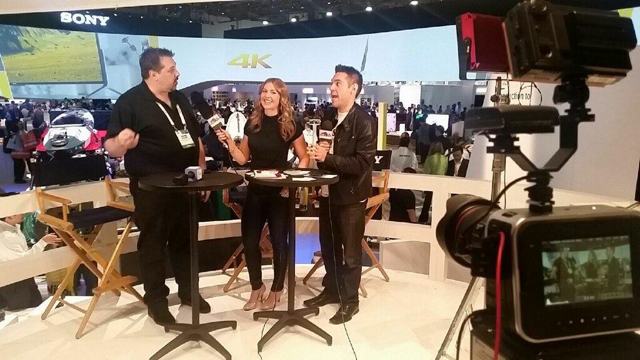 There is an UltraFlix app for Android phones (but not iOS), and the company says it will write an app for game platforms such as Xbox and PlayStation if/when they support 4K.
UltraFlix claims to already have 500 hours of 4K content, including films from the MGM library, 34 IMAX documentaries, 50 rock concerts, and 100 hours of free content. Select pre-recorded sports are also available.
Aaron Taylor, SVP of sales and marketing for NanoTech Entertainment, says the company expects to strike major content deals in the upcoming weeks. However, licensing is not the only challenge.
"The problem, according to Taylor, is that while movies are often shot in 4K, filmmakers must decide how to accommodate post-production special effects," reports PCWorld.
"A skilled studio can pull enough information from an older analog film print to actually accommodate next-gen 8K movies, he said. But while current movies are shot in 4K, a movie released as a 1080p digital movie may have post-production effects optimized for that level of detail. But a movie shot in 4K also tends to look the best when viewed in the 4K format."
To address this, UltraFlix labels its content "Silver" (upconverted 1080p), "Gold" (older film transfers), and "Platinum" (native 4K).
The service currently offers a 48-hour rental of titles ranging from $1.99 to $9.99, but plans to introduce subscription and purchase options shortly.
In addition to its licensing deals, notes PCWorld, "UltraFlix also practices a barter method: It owns a 4K post-production transfer studio and will convert movies from studio vaults in exchange for a period of exclusivity, on the order of three months."
But the bigger hurdle may be that top streaming services with existing name recognition, such as Netflix and Amazon, have already begun to offer content in 4K.
Topics:
1080p
,
4K
,
8K
,
Aaron Taylor
,
Amazon
,
Android
,
CES
,
Hisense
,
LG
,
Movie
,
NanoTech Entertainment
,
Netflix
,
Panasonic
,
PlayStation
,
Post Production
,
Samsung
,
Sharp
,
Smart TV
,
Smartphone
,
Sony
,
Sports
,
Streaming
,
Subscription
,
Television
,
Toshiba
,
TV Show
,
UHD
,
Ultra HD
,
UltraFlix
,
Video
,
Vizio
,
VOD
,
Xbox