Television broadcasters, which are suing for an injunction to shut down Aereo, are also said to be considering back-up plans in case the Supreme Court rules in favor of the video startup. Options being considered range from lobbying Congress for legislative solutions to possibly transitioning from broadcast to cable transmission. Broadcasters such as ABC, CBS, Fox and NBC contend that Aereo is violating copyright law by capturing over-the-air signals and streaming them via the Web to paying customers.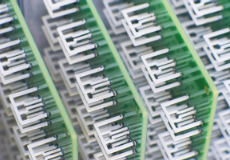 Meanwhile, Aereo views its product as a complement to popular online video services such as Netflix, not as a threat to the broadcasters' business model. The company defends its approach by claiming it is merely facilitating viewers' rights to access free-to-air broadcast television.
"I still fail to understand what the harm is of people using antennas for themselves," said Aereo CEO Chet Kanojia.
The Supreme Court takes up the case next week.
"The most radical of the contingency plans is the recent suggestion from CBS Corp. Chief Executive Leslie Moonves that the company could offer its own Internet service if Aereo wins," reports The Wall Street Journal. "Moonves hasn't provided details, but a person familiar with the situation said CBS has the ability to launch a service that would stream its programming over the Web simultaneously with its television broadcasts."
"CBS would charge a few dollars a month and show ads, the person said. Such a service would also likely offer on-demand programming," notes WSJ. "It could include Showtime, the CBS-owned premium cable channel, which would increase the subscription fee, the person said. CBS would use technology company Syncbak, in which it owns a minority stake, to power streaming of local TV stations' signals over the Web, the person said."
Broadcasters could also opt to stop offering their content via traditional broadcast and essentially become cable networks. However, the approach could lead to complications for local affiliates that rely on network programming.
The Obama administration recently filed a brief, submitted by Deputy U.S. Solicitor General Edwin Kneedler, urging the Supreme Court to rule against Aereo.
Topics:
ABC
,
Advertising
,
Aereo
,
Affiliate
,
Antenna
,
Broadcast
,
Broadcaster
,
Cable
,
CBS
,
Channel
,
Commercial
,
Congress
,
Copyright
,
Court
,
Federal
,
FOX
,
Injunction
,
Internet
,
Kanojia
,
Kneedler
,
Law
,
Lawsuit
,
Legal
,
Legislation
,
License
,
Licensing
,
Local
,
Model
,
NBC
,
Netflix
,
Network
,
Pay
,
Premium
,
Retrans
,
Showtime
,
Startup
,
Station
,
Stream
,
Streaming
,
Subscribe
,
Subscription
,
Syncbak
,
Television
,
Transmission
,
Transmit
,
TV
,
Video