As Hollywood studios are shifting from distributing movies on film to digital distribution via hard drives and satellite, many small theaters cannot afford $60,000 or more to upgrade and support the new technology. Theater owners are faced with the difficult decision between investing in new equipment or closing down their theaters. Meanwhile, most major U.S. cinema chains have already converted to digital cinema, many with the support of Wall Street-financed programs.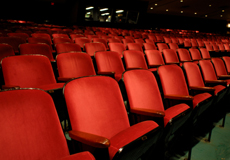 "About 87 percent of the 5,762 theaters in the U.S. are now digital, according to the National Association of Theatre Owners. The remaining 13 percent is mostly made up of one-screen independents, in rural communities with no multiplexes for miles," reports The Wall Street Journal.
Scrabble Ventures LLC has started to help small theaters that cannot afford a lump-sum payment by leasing digital projectors to them.
Last October, Warner Bros. only created 200 film prints for "Gravity," which played in over 3,000 theaters. Since then the number of film prints has decreased even more. For example, there were only 75 prints created for "Transcendence," to be released this Friday.
Some small theaters have been able to raise money for the conversion costs through online Kickstarter campaigns and philanthropy efforts.
"In Colorado, a state program has teamed up with local philanthropists to award about $700,000 to 14 struggling theaters in its mountain communities," notes WSJ. "One recently converted theater, the 122-year-old Twin City Opera House in McConnelsville, Ohio, raised about $90,000 for its upgrade. The local Kiwanis International club gave $10,000, but most of the money came via donations of about $50 each."
Topics:
Award
,
Campaign
,
Chain
,
Cinema
,
Close
,
Colorado
,
Community
,
Conversion
,
Convert
,
Distribute
,
Distribution
,
Equipment
,
Film
,
Finance
,
Gravity
,
Hollywood
,
Independent
,
Invest
,
Kickstarter
,
Lease
,
Local
,
Lump
,
Major
,
Money
,
Mountain
,
Movie
,
Multiplex
,
National
,
Online
,
Owner
,
Payment
,
Philanthropy
,
Print
,
Program
,
Projector
,
rural
,
Satellite
,
Scrabble
,
Screen
,
Small
,
Social
,
Struggle
,
Studio
,
Support
,
Theater
,
Transcendence
,
Warner