Large format theaters with over-sized high-resolution screens, more comfortable seating, and better sound systems are on the rise. IMAX has traditionally been the leader in these offerings, but competitors such as Cinemark Holdings, Regal Entertainment and AMC Entertainment have started offering their own premium large format (PLF) theaters. Last year, the three chains' 325 PLF theaters increased revenue by 31 percent to $237 million.
Theater chains have been promoting PLF theaters because attendance and revenue have been slowing in recent years.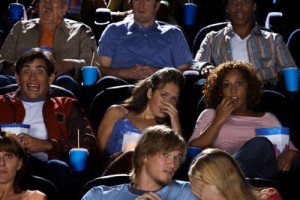 "Cinemark and the other chains realize that U.S. attendance isn't increasing long term, so they need to get more money out of the same person to grow the core business," said Townsend Buckles, a media analyst at J. P. Morgan Securities. "Adding large-format screens and other premium offerings at an upcharge is one way to do it. It's a smart strategy."
Theatergoers usually pay about $3 to $5 more to watch films on larger screens.
With theaters in 58 countries, IMAX made $44.1 million in profit last year, a seven percent increase. IMAX collects fees from theater chains that operate IMAX auditoriums. Also, some top Hollywood directors, such as Michael Bay, Bray Bird, and Christopher Nolan, have insisted that their films be released in the IMAX format.
Other movie directors and studios want in on the big screen action, too, which is why PLF theaters could be competitive. Studios believe being selected for IMAX is a sign of the movie's status as an exclusive must-see event. However, IMAX only accepts a few of the biggest films every year, so some studios have been helping to promote the PLF network.
Phil Contrino, chief analyst of BoxOffice.com, believes there is room in the market for both IMAX and PLF theaters. "The big picture, no pun intended, is about how the big chains, more than ever, are trying to offer an experience that is miles ahead of the one you can have in your living room," he said.
"But analysts say that for the most part, IMAX has nothing to worry about in the United States until at least 2021, when large clusters of its leases begin to expire and theater chains must decide whether to renew or convert to their own label, as Cinemark recently did at one location in Los Angeles," reports The New York Times.
Topics:
AMC
,
Bird
,
BO
,
Box Office
,
BoxOffice.com
,
Christopher Nolan
,
Cinema
,
Cinemark
,
Contrino
,
Distribution
,
ETX
,
Exhibition
,
Film
,
High Resolution
,
IMAX
,
J.P. Morgan
,
LA
,
Large Format
,
Lease
,
Los Angeles
,
Luxury
,
Marketing
,
Michael Bay
,
Motion
,
Movie
,
New York Times
,
Picture
,
PLF
,
Premium
,
Profit
,
Regal
,
Release
,
Revenue
,
RPX
,
Sales
,
Seating
,
Seats
,
showing
,
Sound
,
Surround
,
Theater
,
Ticket
,
Trend
,
XD