"Trolls World Tour," produced by DreamWorks Animation and distributed by Universal Pictures, was due to release in movie theaters on April 10. But when the coronavirus pandemic closed theaters, Universal decided to release it as a $19.99 digital rental on platforms including Apple TV, Amazon and Comcast's Xfinity. Three weeks later, "Trolls" has generated almost $100 million, more than the original 2016 movie. That has encouraged Universal execs to consider digital release as a real alternative to postponing a theatrical release.
The Wall Street Journal reports that "Trolls" now offers Hollywood "the best ammunition yet in an industrywide push to change the way movies are released." Studios "retain about 80 percent of the digital rental or purchase fee — compared with about 50 percent of box-office sales."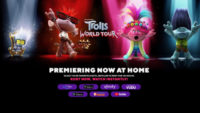 At NBCUniversal, chief executive Jeff Shell had long wanted to experiment with premium video on demand, and "Trolls," he said, "exceeded our expectations and demonstrated the viability of PVOD." "As soon as theaters reopen, we expect to release movies on both formats," he said.
"Universal has made more than $77 million in revenue from 'Trolls World Tour' domestic customers so far … [although] it is unclear how the $20 rental strategy will affect future sales" of its DVDs and digital downloads. Universal researchers found that "51 percent of people who rented the sequel said they would have 'definitely' seen the movie in theaters."
Universal also released "Invisible Man," "The Hunt," "Emma" and "Never Rarely Sometimes Always" on digital platforms, generating about $60 million, of which Universal takes $48 million.
Other studios are following suit, with AT&T's Warner Bros. "Scoob!" heading for digital rental on May 15, "the day it had been scheduled to hit theaters." After its digital release, "Scoob!" will move to its HBO Max streaming service. Sony Entertainment plans to release Seth Rogen comedy "An American Pickle" digitally later this year, and Disney is releasing "Artemis Fowl" directly to Disney+.
Elsewhere, WSJ reports AMC Entertainment chief executive Adam Aron wrote Universal chair Donna Langley that his chain would not book any of her studios' movies over concern regarding change to the traditional exclusivity window agreement with theaters. Aron wrote that this policy "also extends to any movie maker who unilaterally abandons current windowing practices."
WSJ also reports that the Academy of Motion Picture Arts and Sciences stated that, "movies that were scheduled for theatrical release but are instead distributed on digital platforms will be eligible in major categories." This deviation from the rules will only be in effect until theaters reopen and will only apply to the 93rd Academy Awards, scheduled for February 28, 2021.
In the past, the Academy has held firm against considering streaming movies as eligible for awards, and Netflix has had to book its movies for limited theatrical runs to be eligible for that consideration.
Related:
NBCU CEO Addresses 'Trolls' Theatrical Window Controversy, Calls Premium VOD "Complementary", The Hollywood Reporter, 4/30/20
Topics:
Adam Aron
,
Amazon
,
AMC Entertainment
,
AMPAS
,
Apple TV
,
AT&T
,
Comcast Xfinity
,
Coronavirus
,
COVID-19
,
Disney
,
Disney Plus
,
Donna Langley
,
DreamWorks Animation
,
HBO Max
,
Jeff Shell
,
Movie
,
NBCUniversal
,
Netflix
,
PVOD
,
Seth Rogen
,
Sony Entertainment
,
Streaming
,
Trolls World Tour
,
Universal Pictures
,
Warner Bros.
,
Windowing