DVR maker TiVo has confirmed that it is developing a legal version of the failed Aereo service, which combined cloud DVR tech with a system of antennas for capturing over-the-air TV and distributing the content online to subscribers via smartphones, tablets, connected TVs and Web browsers. Aereo filed for bankruptcy after the Supreme Court ruled it had violated copyright law, and then TiVo purchased Aereo's trademarks and customer lists for about $1 million. The company has scheduled a July event in San Jose to discuss the new product.
TiVo believes that combining OTA with over-the-top broadband services would present cable partners with an opportunity to target cord cutters who are abandoning cable and satellite. The problem is how to do that. "To us, the answer is pretty clear," said TiVo CEO Tom Rogers during last week's INTX show in Chicago, "it's kind of the Aereo model, done legally and better."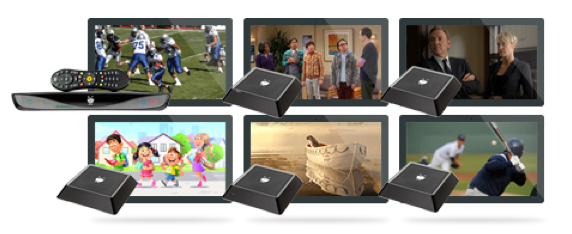 "It's one helluva cheap way for cable operators to have an OTA/OTT device that says, 'Satellite cord cutter, I have a broadband package for you with a video component,'" suggested Rogers. "I think it allows them [the cable operator] to own the low-end and win over satellite subscribers."
"While it's not clear if TiVo plans to recreate the Aereo system and agree to pay retransmission fees, TiVo has been developing and testing a cloud DVR platform," reports Multichannel News.
"TiVo has also been targeting cord cutters with the Roamio OTA, a recently launched four-tuner HD-DVR that blends access to over-the-air TV channels with OTT fare from partners such as Hulu, Netflix and Amazon, and wraps it all into a unified interface. It sells for $49.99 (plus a $14.99 per month service fee), though TiVo is also experimenting with an option that sells the device for $300 with a lifetime subscription to the TiVo service."
Topics:
Aereo
,
Amazon
,
Antenna
,
Broadband
,
Broadcast
,
Chicago
,
Cloud
,
Copyright
,
Distribution
,
DVR
,
Hulu
,
Internet
,
INTX
,
Live TV
,
Mobile
,
Netflix
,
OTA
,
OTT
,
Pay TV
,
Roamio OTA
,
San Jose
,
Satellite
,
Smart TV
,
Smartphone
,
Streaming
,
Subscriber
,
Subscription
,
Supreme Court
,
Tablet
,
Television
,
TiVo
,
Tom Rogers
,
Trademark