TikTok is introducing a new feature, the TikTok Library, aimed at making it easier for creators to augment entertainment content and jump on trends. The TikTok Library will initially be populated with content from Giphy, including the audio-enhanced GIFs known as Giphy Clips. Companies ranging from TV and movie studios to game makers, record labels, sports leagues and media outlets have been sharing licensed content using Giphy Clips. Giphy was founded in 2013, and was in 2020 purchased for $400 million by Facebook, now Meta Platforms. 
Today, the Giphy Clips feature has expanded "to include thousands of content makers who want to leverage GIFs with sound — also known as short-form video — to reach Giphy's hundreds of millions of daily active users," writes TechCrunch.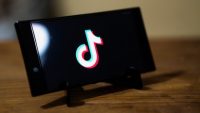 TikTok says in its Library announcement that it is adding "a new category of entertainment content, making it easy for people to start or participate in their own trends, using clips from their favorite shows, GIFs, memes and more by seamlessly integrating them into their TikTok videos."
TikTok plans to continue adding Library content from additional sources, building a catalog of audio and sounds, text templates and other creator tools. Giphy Clips available at launch include:
Reactions: capturing an emotional response, designed to be relatable to users
Quotes: including "memorable catchphrases and quotable moments from notable personalities"
People: featuring popular celebrities, athletes and other notables who help creators express themselves
Iconic moments: memorable instances from awards speeches, beloved TV scenes, or game-play
Giphy's TikTok integration "will include a portion of the GIPHY Clips library in the tens of thousands, in addition to millions of GIFs from Giphy's wider library," a spokesperson for the company told TechCrunch. The clips can be edited for length. The TikTok Library will initially be made available on Android, in select markets, to be followed by iOS and further expansion to more users in the weeks ahead.
Social Media Today declares Giphy tools "a good addition for TikTok, especially given the popularity of reaction content in the app, with its Duets feature enabling users to add their own take on trending clips."
In December, the UK's Competition and Markets Authority ordered Meta to divest of Giphy, claiming it would stifle competition, which could have incentivized the pact with TikTok — a competitor to Meta's Facebook and Instagram — to prove it has no antitrust intent, and is treating third parties equitably.
Topics:
Android
,
Antitrust
,
Audio
,
Competition and Markets Authority
,
Facebook
,
Gaming
,
GIF
,
Giphy
,
Giphy Clips
,
Instagram
,
iOS
,
Memes
,
Meta Platforms
,
Movie
,
Music
,
Social Media
,
Social Video
,
Sounds
,
Sports
,
Television
,
TikTok
,
TikTok Duet
,
TikTok Library
,
United Kingdom
,
Video