Technicolor demonstrated a high dynamic range (HDR) imaging technology at CES this week that intends to improve the consumer viewing experience. The company has plans to propose its imaging tech to the Moving Picture Experts Group in hopes of including it in the HEVC compression scheme for streaming 4K content. Technicolor is also demonstrating developments targeting the Internet of Things, in addition to connected cars and Ultra HD delivery.
Technicolor's HDR efforts are "effectively taking on Dolby's newly announced Dolby Vision, which is another development aimed at offering higher dynamic range to create better pictures, whether for HD or 4K content," writes our friend Carolyn Giardina for The Hollywood Reporter.
"Technicolor is additionally developing its own method for encoding HDR content for delivery to the home, as well as a method of mapping this spec to existing content. Like Dolby, it plans to license this technology when it becomes available," notes Carolyn. "At CES, Technicolor is displaying its HDR imagery on a SIM2 prototype display, which it said reaches 4,000 nits (a measurement of light)."
Clips for the CES demo were captured with Sony F65 4K cameras on a 3D rig. Technicolor is also developing an HDR post-production pipeline.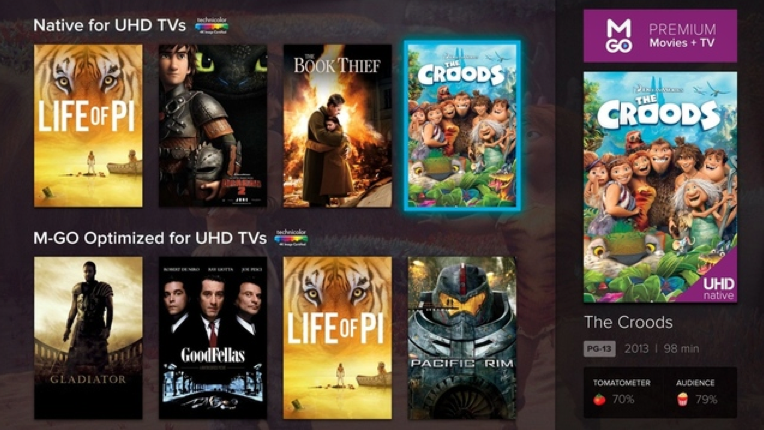 The company is working on "some proprietary upscaling technology that is being used to package 4K content for M-GO, the pay-as-you-go digital movie and TV streaming service joint venture between Technicolor and DreamWorks Animation," Carolyn writes, "which is launching a 4K streaming service in the spring. Samsung was announced as the first partner that will support the 4K M-GO service on its 2014 Ultra HD TVs."
Additionally, Technicolor announced the IoT platform Virdata, in partnership with IBM, which will target CE and automotive markets.
Related Stories:
Looking for 4K Content? Check Out Amazon, Netflix and M-GO, ETCentric, 1/7/14
Dolby Vision: The Future of TV is Really, Really Bright, The Verge, 1/6/14
Topics:
2014
,
3D
,
4K
,
Auto
,
Car
,
CEA
,
CES
,
Compression
,
Connected
,
Consumer
,
Delivery
,
Demo
,
Dolby
,
DreamWorks
,
DWA
,
Dynamic
,
Electronics
,
Encode
,
F65
,
Film
,
HD
,
HDR
,
HEVC
,
High
,
IBM
,
Imaging
,
Internet
,
IoT
,
Las Vegas
,
License
,
M-GO
,
Mapping
,
Movie
,
MPEG
,
Post
,
Production
,
Range
,
Show
,
SIM2
,
Sony
,
Stream
,
Streaming
,
Technicolor
,
Television
,
TV
,
UHD
,
Ultra
,
Ultra HD
,
Upscaling
,
Vehicle
,
Video
,
Virdata
,
Vision