Bendable video screens offer the best of both worlds: an immersive cinema experience by pushing forward into the screen for an increased peripheral experience — or a flat panel for viewing basic content such as a news show from across the room. New flexible substrates are making this possible, and two manufacturers showed prototypes at CES. Samsung and LG both unveiled widescreen TVs that can mechanically bend at the press of a remote control button.
LG showed a 77-inch OLED TV that adjusted between a flat and curved screen in about 10 seconds by bending 7.5 centimeters, making it 8cm narrower in total at full curve. Samsung went a little bigger with an 85-inch UHD TV (pictured here) that also took two shapes to accommodate two different viewing experiences.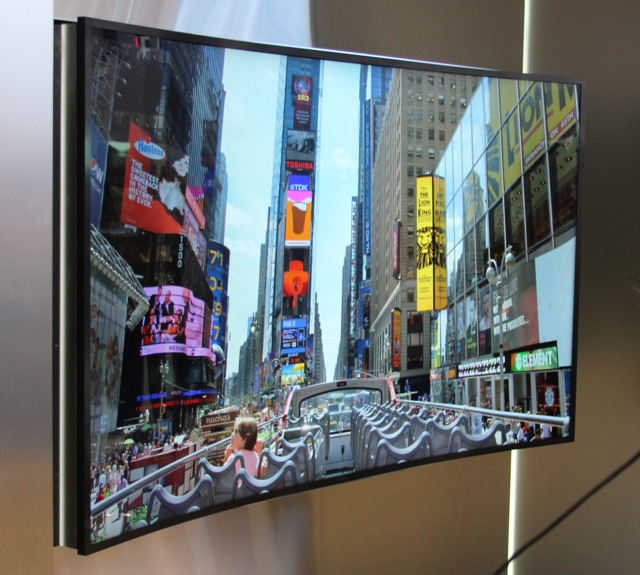 Samsung did not elaborate on the potential benefits of multiple TV forms in a single unit, but noted that it wants to provide consumers with more choice.
According to a Samsung exec speaking to BGR at the show, a bendable TV "provides even more lifelike picture quality and depth. It gives you a 3D-like effect without wearing 3D glasses. It provides a truly immersive experience."
"It's (unsurprisingly) gorgeous," reported Engadget of the LG screen. "LG's calling it the first bendable UHD OLED TV — now remember, Samsung's wasn't (it looked like LED) and it was a touch larger at 85-inches, but it's a more slender mechanism that does the bending on the LG version. We were told it's a combination of 'motors and gears' that makes it work, but we like how it maintains the finer silhouette."
While some critics might tease over the apparent reach for differentiation, crowds anxiously jammed into the booths and waited through the demonstration cycles to experience both forms.
While pricing and release dates have yet to formally be announced, it probably won't be too long before we actually see these products in stores. In fact, amidst the excitement over the prototypes in Las Vegas, both companies said we can expect to see some products this year — including their 105-inch, curved UHD TVs. Samsung's bendable 4K TV will reportedly be available as model number U9B.
Topics:
3D
,
4K
,
Bend
,
Bendable
,
BGR
,
CEA
,
CES
,
Consumer
,
Curve
,
Curved
,
Electronics
,
Film
,
Flat
,
Flexible
,
Gear
,
Glasses
,
HD
,
Immersive
,
Las Vegas
,
LED
,
LG
,
Mechanical
,
Monitor
,
motor
,
Movie
,
OLED
,
Panel
,
Program
,
Prototype
,
Samsung
,
Screen
,
Shape
,
Show
,
Television
,
TV
,
U9B
,
UHD
,
Ultra
,
Ultra HD
,
Widescreen