Nielsen reports that about two in five U.S. households currently subscribe to streaming video services. According to the measurement company's latest Total Audience Report, about 36 percent of households were Netflix subscribers in November. Netflix indicates it now has 40 million paid subscribers in the U.S. Following Netflix is Amazon Prime at 13 percent and Hulu Plus at 6.5 percent, explains the Nielsen study, which also shows that streaming service subscribers spend significantly more time viewing content.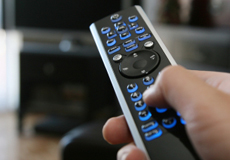 According to the report, U.S. households with streaming subs spend about 2 hours and 45 minutes per day watching time-shifted TV programming via game consoles, multimedia devices, and DVD or Blu-ray players. This compares to households without subs that spend less than 2 hours per day on the same screens.
"The research sheds light on the popularity of a fast-growing segment of television watching that has been difficult to track because the digital companies release few numbers about how many subscribers they have and what those people are watching," reports The New York Times. "Nielsen, for instance, does not measure the audiences for shows streamed on Netflix or Amazon."
While an argument could be made that streaming services are leading to consumers cutting the cord, others merely see a shift in the distribution model.
"People who like TV, love TV," said analyst Brian Wieser of Pivotal Research. "Just because you get Netflix doesn't mean that you cut the cord."
"Television executives are voicing concerns that streaming services like Netflix are cutting into the amount of time that people spend watching traditional television; analysts estimate that total television viewing declined by almost 10 percent during the third and fourth quarters of 2014," notes NYT.
"That does not count time spent watching streaming video. About a third of households subscribe to just one streaming video service. About 10 percent subscribe to two and only 2.6 percent subscribe to three, the report showed."