Music streaming service Spotify launched its live audio app, Greenroom, for iOS and Android. Built on Locker Room — the app focused on sports content created by Betty Labs and acquired by Spotify in March — the Greenroom app is similar to Clubhouse in that it allows users to host live conversations about music, sports and other topics. Branded with Spotify colors and a new logo, Greenroom features native recordings, which can be distributed as podcasts. Although users can sign in with Spotify credentials, it is not required to use the app.
The Verge reports that, "the initial signup flow will also allow users to select their interests from a wider range of topics, like music genres and sports teams." Spotify also plans to launch a Creator Fund, which, according to a source, will pay people "based on how popular their rooms are and their engagement in them."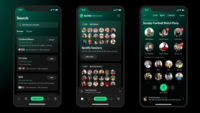 The company may also make exclusive deals with creators. It notes that, since Clubhouse launched in March 2020, "every tech company now seems to be interested in social audio," pointing out Twitter's Spaces, Facebook's Live Rooms, and similar products coming from Slack, LinkedIn, Reddit and Discord.
TheNextWeb reports that Spotify is differentiating Greenroom from the competition with chat tools and "the ability to schedule rooms and get reminders for them." At its introduction, "Spotify Greenroom will be available in more than 135 countries."
Regarding the Creator Fund, Spotify has provided a registration link for those interested in participating. In comparison, "Clubhouse launched 50 funded shows on its platform with each creator getting around $5,000 a month, recording gear, and creative support."
In its press release, Spotify states that, "the Greenroom offering will continue to evolve as we learn more about what creators and listeners want from their live audio experience." It also mentioned that the Creator Fund will open up "later this summer."
Topics:
Android
,
Apps
,
Audio
,
Betty Labs
,
Chat
,
Clubhouse
,
Creator Fund
,
Discord
,
Facebook
,
Greenroom
,
Internet
,
iOS
,
LinkedIn
,
Live Audio
,
Live Rooms
,
Locker Room
,
Mobile
,
Music
,
Podcasts
,
Reddit
,
Slack
,
Social Audio
,
Social Media
,
Sports
,
Spotify
,
Subscriptions
,
Sweden
,
Twitter
,
Twitter Spaces