Spotify Technology saw its advertising revenue more than double during the quarter ending June 30, but its audio streaming service added fewer total users than expected. Spotify chief executive Daniel Ek noted that, "while I'm disappointed that our [user] growth was softer in the last half of Q1 and the first half of Q2, the good news is that we've seen that trend line reverse, and all the leading indicators I'm seeing show that we are back on track." At the end of the quarter, Spotify had 365 million monthly active users, a 22 percent bump year-over-year.
The Wall Street Journal reports that paying subscribers rose 20 percent to 165 million. But "average revenue per user for the subscription business slipped 3 percent to €4.29, the equivalent of $5.07," due to discounted plans and lower prices in new markets such as India and Russia.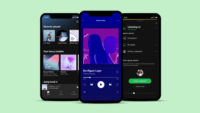 Subscription revenue rose 17 percent to €2.06 billion, while advertising revenue jumped 110 percent to €275 million, "growing for a fourth consecutive quarter after sliding in the first half of last year amid pandemic headwinds." Advertising during the quarter accounted for almost 12 percent of total revenue, two points more than typical.
Spotify reported that, "COVID-19 weighed on performance in several markets — mainly India, Brazil and Southeast Asia — and that it paused marketing campaigns in some instances."
Ek noted that the ad-supported side of the business is breaking out, due in part to Spotify Audience Network, "which allows advertisers to buy against audiences versus specific shows [and] … helped triple the podcast inventory it can monetize."
"I've said all future media companies are going to need multiple revenue models, and from a future strategy perspective this is incredibly great news for us," he said, adding that he looks forward to "fishing" the radio ad market worth $20 billion in the U.S. and $50 billion globally.
In the last quarter, Spotify also debuted "a platform for podcasters to charge a subscription fee," and doesn't charge for its use or collect any portion of their subscription revenues for the first two years.
The Verge reports that Spotify's "interest in podcasts has showed no signs of slowing this quarter, [having recently] … acquired exclusive rights to two podcasts, 'Call Her Daddy' and Dax Shepard's 'Armchair Expert,' as well as the company Podz whose technology automates the process of creating preview clips that feature key moments from podcasts."
Monthly active users listening to podcasts last quarter "improved modestly" compared to the 25 percent of MAUs engaged in the last two quarters. "The Joe Rogan Experience," now in its 12th year, "continues to perform above expectations."
WSJ noted that, "there are now 2.9 million podcasts available on Spotify, up from 2.6 million last quarter."
Topics:
Advertising
,
App
,
Asia
,
Audio
,
Brazil
,
COVID-19
,
Daniel Ek
,
Dax Shepard
,
India
,
Joe Rogan
,
Marketing
,
MAUs
,
Music
,
Podcast
,
Podz
,
Radio
,
Russia
,
Spotify
,
Spotify Audience Network
,
Spotify Technology
,
Streaming
,
Subscriber
,
Subscription
,
Sweden