The COVID-19 pandemic has reaped rewards for Big Tech companies that benefitted from the shift to remote working and learning. Apple earned $21.7 billion in profit for the quarter that ended in June, the most successful quarter in the company's 45-year history, while Alphabet and Microsoft also enjoyed strong quarterly earnings. Apple's revenue rose 36 percent from the same period a year earlier to $81.4 billion, exceeding Wall Street expectations. Apple is on track to earn $86 billion for the fiscal year, according to FactSet analysts.
The Wall Street Journal reports that this profit "would be about 51 percent better than last year's record" and compares sharply with the 11 percent bump predicted by analysts a year ago. In the same quarter, sales of iPhones skyrocketed 50 percent to $39.6 million, driven by 5G, according to Robert W. Baird & Co. analyst William Power.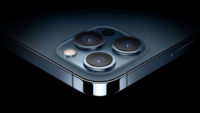 Apple chief executive Tim Cook said he is "not predicting the next cycle," but added that, "we're in the very early innings of 5G." Apple usually sees a drop in sales in Q3 compared to Q2, and chief financial officer Luca Maestri predicted sales could dip as much as $4 billion. Instead, it fell 8.5 percent, "just below $3 billion."
Maestri said that the next quarter's revenue growth won't be as strong as the quarter that closed in June, but the company is nonetheless "expecting to grow very strong double digits."
Still, Apple shares fell 2+ percent when the company said the rate of growth will not continue. "As the last 18 months have demonstrated many times before, progress made is not progress guaranteed," said Cook. Microsoft's shares also fell "after its video-game business failed to keep up the blistering pace it set earlier in the pandemic."
Loup Ventures managing partner Gene Munster noted that, "investors believe the good times will soon slow." "At the root of tonight's sell off is the question of the sustainability of the strength," he added. "The numbers are so impressive, comps get difficult and it's hard for investors to believe the epic growth will continue."
CNBC reports that, in the last quarter, "every one of Apple's major product lines grew over 12 percent on an annual basis." Maestri said that, "Apple expected less than 36 percent growth in the September quarter because of foreign exchange rates, less growth in its services business and [semiconductor] supply constraints for iPhones and iPads."
Apple reported $14.76 billion in sales in the Greater China region, up 58 percent from the same quarter last year, and sales in the U.S. "were up nearly 33 percent year-over-year to $39.57 billion." The company's services business was up "33 percent year-over-year, an acceleration from last quarter's 26.7 percent growth rate … [although] Maestri said that Apple expected the company's services growth rate to decrease in the September quarter."
Cook reported that Apple "now has 700 million paid subscribers, up 150 million year-over-year … [including] customers subscribed to an app through Apple's App Store billing."
Topics:
5G
,
Alphabet
,
App Store
,
Apple
,
Apple App Store
,
Big Tech
,
Chips
,
COVID-19
,
FactSet
,
Gene Munster
,
iPad
,
iPhone
,
iPhone 12
,
Loup Ventures
,
Luca Maestri
,
Microsoft
,
Mobile
,
Remote Learning
,
Remote Working
,
Robert W. Baird & Co.
,
Semiconductors
,
Tim Cook
,
Video Games
,
Wall Street
,
William Power