At MWC Barcelona (formerly Mobile World Congress), Sony introduced its flagship smartphone, the Xperia 1, with a notably tall display and 'CinemaWide' 21:9 aspect ratio, shared by the lower cost new Xperia 10 and 10 Plus. The Xperia 1 is the successor to Sony's Xperia XZ3 released last fall. The Xperia 1's display is a 4K HDR OLED panel measuring 6.5-inches diagonally. With a bezel on top, it is 6.57-inches tall, almost an inch taller than an iPhone XS. Sony positions the new form factor as ideal for videos, games and multitasking.
The Verge reports that, "a lot of our phone content tends to be things displayed in vertical lists, like text message threads, emails, Instagram feeds … [so] a taller screen means you can read and browse more stuff at once." With regard to watching videos and playing games, it notes that, although "plenty of movies are filmed in cinematic aspect ratios, which should look great on the tall screen … the content that people tend to watch on their phones, like YouTube, usually isn't."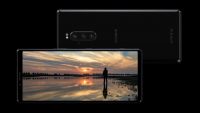 With regard to games, "Sony is also working with partners on versions of games like 'Fortnite' and 'Asphalt Racing' to support the taller screen, but games that aren't optimized won't take full advantage." The Xperia 1 will be released sometime in the spring; the 10 and 10 Plus will debut March 18.
The Xperia 1's other features include "a triple camera system on the back with a trio of 12 megapixel lenses — a 26mm wide lens (with OIS), a 52mm telephoto lens (also with OIS), and a 16mm superwide lens." It relies on Qualcomm's Snapdragon 855, provides 6GB of RAM and 128GB of storage, is water resistant and features a side-mounted fingerprint reader.
The Xperia 10 "has a smaller 6-inch LCD screen, 3GB of RAM, 64GB of storage, and a midrange Snapdragon 630 processor," and the Xperia 10 Plus offers an LCD 6.5-inch display, and 4GB of RAM and 64GB of storage. The reviewer adds that, "the tall screens are definitely the sort of thing that takes some getting used to … [although] Sony does support a one-handed mode that shrinks down the entire OS into a corner of the display that's [accessed] by a double tap on the home button" for smaller hands.
Reuters adds that the Xperia's HDR OLED screen is "optimized using Sony's Bravia TV technology," and that the phone can take photos and record 4K video in the 21:9 aspect ratio.
Topics:
4K
,
Asphalt Racing
,
Cinematic Aspect Ratio
,
CinemaWide
,
Display
,
Fingerprint Reader
,
Fortnite
,
Gaming
,
HDR
,
Instagram
,
iPhone XS
,
LCD
,
Mobile
,
Mobile World Congress
,
MWC Barcelona
,
OLED
,
Qualcomm
,
Smartphone
,
Snapdragon
,
Sony
,
Sony Bravia
,
Vertical Scrolling
,
Video
,
Xperia 1
,
Xperia 10
,
Xperia 10 Plus
,
YouTube