TV commerce firm Delivery Agent will team with H&M to boost sales via the retailer's upcoming Super Bowl commercial. H&M's 30-second spot will feature the spring collection of David Beckham Bodywear. Delivery Agent's tech will allow viewers to purchase products in the commercial through a special app. However, only a fraction of viewers will actually be able to use it, since the purchasing app only works with 2012 and 2013 Samsung Smart TVs connected to the Internet. 
According to Variety: "Even though the shopping app will be limited, the retailer will gain an advantage by 'making their Super Bowl ad actionable and directly measurable,' said Delivery Agent CEO Mike Fitzsimmons."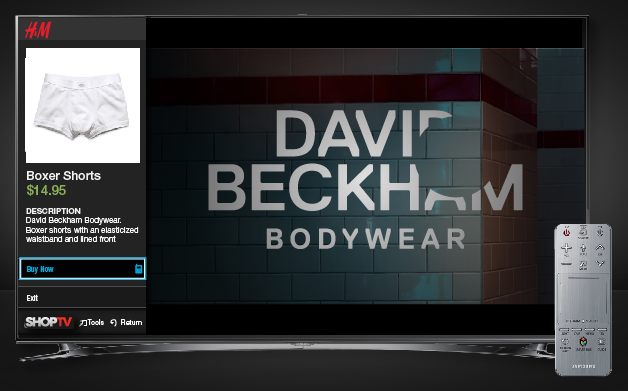 In the past, the most common example of interactive TV shopping was giving viewers of "Friends" the ability to purchase Jennifer Aniston's sweater.
"Delivery Agent has coined the term 't-commerce,' for television commerce," explains CNET. "The company essentially provides a platform and television-based app that allows consumers to buy products they see on TV. This is the first time the technology will be tried."
Samsung is an investor in Delivery Agent, which explains the exclusivity of H&M's interactive ad only working with Samsung Smart TVs. "The clothing will remain on sale through Delivery Agent's ShopTV app available on those sets," notes CNET.
Delivery Agent and H&M are demonstrating the t-commerce shopping experience this week at CES.
Topics:
Ad
,
Advertiser
,
Advertising
,
Aniston
,
App
,
Beckham
,
Bodywear
,
Broadcast
,
CEA
,
CES
,
Clothing
,
CNET
,
Commerce
,
Commercial
,
Connected
,
Consumer
,
Delivery Agent
,
Electronics
,
Fitzsimmons
,
Football
,
Friends
,
H&M
,
Interactive
,
Internet
,
Las Vegas
,
Marketing
,
NFL
,
Retail
,
Retailer
,
Samsung
,
Shopping
,
Show
,
Smart
,
Sports
,
Spot
,
Super Bowl
,
T-Commerce
,
Television
,
TV
,
Variety