In a keynote address to the Annual Fitness Tech Summit, Reebok VP of Advanced Concepts Paul Litchfield showed off the company's first consumer electronics wearable: the Reebok CheckLight. The result of more than four years of R&D, the CheckLight acts as a head impact indicator, in the form of a wearable skullcap with flexible electronics. "There's been so much talk about head trauma and brain injury," said Litchfield. "We identified a gap and, with MC10 as our electronics partner, created the CheckLight."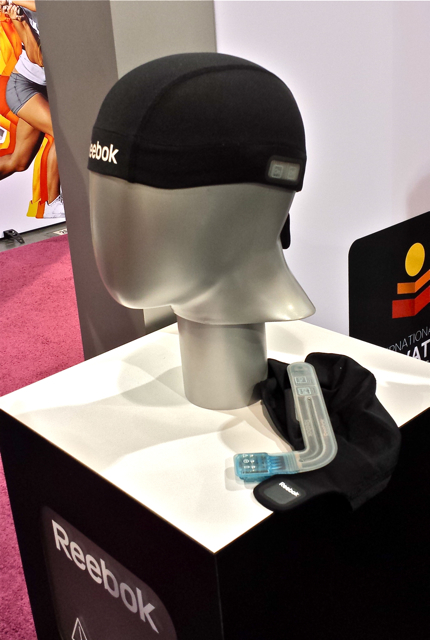 The CheckLight skullcap is a three-light visual display. A green light means the device is working; a yellow light indicates a moderate impact and the red light a more severe impact. Litchfield emphasized that the CheckLight is not a substitute for a medical professional.
"It's not a diagnostic tool but counts the number of hits and judges the severity," he said.
Though the focus is on fulfilling a function in sports and fitness, the CheckLight is also a fashion statement.
"It's stylish; a lot of athletes already wear skullcaps under their helmets," Litchfield said. "You can use it throughout the year for various activities, anytime the head is moving quickly with a chance to stop abruptly."
Reebok has partnered with CrossFit, an exercise community, to market and promote CheckLight. "We have renewed our commitment to the new fitness generation and committed to delivering products that are effective," said Litchfield, who described a long list of Reebok fitness products that resulted from partnerships with "subject matter experts" in the community.
"The CheckLight is our first step in wearable electronics," he added. "We are very disciplined in addressing our product concepts systematically."
Topics:
Cap
,
CEA
,
CES
,
CheckLight
,
Community
,
Concept
,
Consumer
,
CrossFit
,
Design
,
Development
,
Display
,
Electronics
,
Exercise
,
Fashion
,
Fitness
,
Flexible
,
Head
,
Health
,
Helmet
,
Impact
,
Injury
,
Keynote
,
Las Vegas
,
Litchfield
,
MC10
,
Medical
,
Promote
,
R&D
,
Reebok
,
Research
,
Show
,
Skull
,
Skullcap
,
Sports
,
Style
,
stylish
,
Summit
,
Trauma
,
Visual
,
Wearable