Qualcomm is upping the ante in the automotive space with Snapdragon Automotive Solutions in the QNX CAR Platform for Infotainment, which supports high-performance video and graphics capabilities for connected infotainment systems. The solutions are designed for a more interactive in-car experience, and allow things such as streaming movies and music directly to the vehicle with multiple tasks executed in different locations within the car.
The move — implemented through the Qualcomm Technologies subsidiary in conjunction with QNX Software Systems Limited — marks the first automotive implementation of the complete Snapdragon Automotive Solutions. The technology is being demonstrated in a QNX reference vehicle — a specially modified Jeep Wrangler — in the North Hall at CES.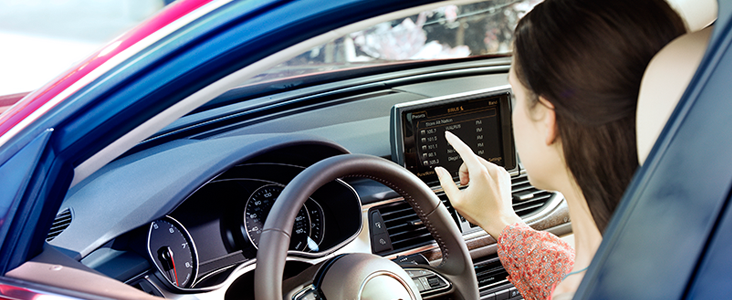 Snapdragon Automotive Solutions include the Qualcomm Snapdragon 602A applications processor with support for high-resolution graphics and HMIs, facial, gesture and voice recognition, high-quality audio processing and image stitching, and multiple HD displays and cameras.
Qualcomm Gobi 3G/4G LTE modems bring multimode cellular connectivity, and Qualcomm VIVE adds in-car Wi-Fi and Bluetooth connectivity.
The set up will enable the next-generation of connected-car infotainment, including enhanced 3D navigation, rear-seat 3D gaming and other sophisticated user apps as well as the already prevalent voice recognition, cloud-based vehicle analytics and geo-mapping.
Topics:
2014
,
3D
,
602A
,
Audio
,
Auto
,
Automobile
,
Bluetooth
,
Car
,
CEA
,
CES
,
Cloud
,
Connected
,
Consumer
,
Demo
,
Display
,
Electronics
,
face
,
Gaming
,
Gesture
,
Graphics
,
HD
,
HMI
,
Infotainment
,
Interactive
,
Jeep
,
Las Vegas
,
Mapping
,
Movie
,
Music
,
Processor
,
QNX
,
Qualcomm
,
Recognition
,
Show
,
Snapdragon
,
Stream
,
Streaming
,
System
,
Vehicle
,
Video
,
Voice
,
Wi-Fi
,
Wrangler