Roku is apparently planning to expand its VOD offerings by producing its own original content, having placed a LinkedIn ad in January looking for a "lead production attorney … [with] substantial experience in television and film production either at a studio, network, streaming service or entertainment law firm [for its] expanding slate of original content." The ad also asked for someone with "experience working with Hollywood guilds and unions." Roku recently purchased original content from the startup Quibi. During the holiday quarter, Roku experienced a 58 percent jump in revenue.
Variety reports that, "Roku's move to staff up an originals team comes after its clinched a deal in early January to acquire global rights to more than 75 of Quibi's original shows," which it plans to stream for free on the Roku Channel throughout 2021. The company reportedly paid "significantly" less than $100 million for the Quibi content.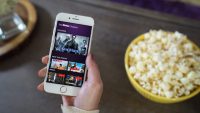 "We believe in this broader AVOD [ad-supported video-on-demand] trend," said Roku vice president of programming Rob Holmes. "At a very high level, we know that our users engage in a very significant way with free content." Roku stated that, as of Q4 2020, it had 51.2 million active accounts and "the Roku Channel reached U.S. households with an estimated 61.8 million people" in the same quarter.
Tom's Guide suggests that, "Roku will be actively involved in the production of said content from day one, rather than just purchasing the rights to existing content — as has been the case with the Roku Channel so far." It asks whether Roku's model — free service with ads — will "stay that way once original content starts coming."
It also wonders how Roku will promote the original content on its devices, adding that, if so, its "relationships with other streaming services could take a hit." Due to production COVID-19 restrictions, it adds, "it's unclear how long it would take for Roku to start releasing its own original content."
The Wall Street Journal reports that Roku chief executive Anthony Wood stated, "we think the pandemic has accelerated, and permanently changed the curve on, the shift to streaming." Strategy Analytics said Roku, which owns 30 percent of the streaming video market, "generates the bulk of its revenue by selling ads on streaming channels and taking a share of the streaming service's subscription revenue and ad inventory."
Roku's total revenue "rose to $649.9 million in the fourth quarter, up from $411.2 million a year earlier … revenue at Roku's platform business, which includes ad sales, jumped 82 percent to $471.2 million … [and its] player unit hit 51.2 million active accounts at year-end." Roku's stock, "which closed at $452.99, is trading seven times higher than its 52-week low in March." It adds that, "average revenue per user hit $28.76 for the quarter, up 24 percent."
Wood said the company will "continue to look more broadly at all the different types of content that we can acquire, and we'll be disciplined about making sure that content purchase price fits into — whether it's licensed or purchased or whatever the financial details are — our [ad-supported video on demand] business model." Roku has projected $485 million for the current Q1, a 51 percent rise over a year earlier.
Topics:
Active Accounts
,
Ad-Supported
,
Advertising
,
Anthony Wood
,
AVOD
,
COVID-19
,
Entertainment Law
,
Hollywood
,
LinkedIn
,
Movies
,
Original Content
,
Production Attorney
,
Quibi
,
Revenue
,
Rob Holmes
,
Roku
,
Roku Channel
,
Strategy Analytics
,
Streaming Services
,
Streaming Video
,
Subscription
,
TV Shows
,
Video
,
VOD