Sony announced that PlayStation Vue's on-demand programming and live sports are now accessible via the Apple TV App on iOS and tvOS. PlayStation Vue becomes the first U.S. pay TV provider added to the TV App, which already includes content from major cable channels and top streaming services (although not Netflix). While viewers will be forwarded to the PlayStation Vue service rather than streaming content directly in Apple's TV App once content has been selected, the integration should make the process of finding available movies and TV shows easier.
"The TV App makes it easy to view all of the content you have access to in one place, and it will tell you where you can find a show or movie that you've searched for, and recommend content based on the services you have access to and your tastes," explains The Verge.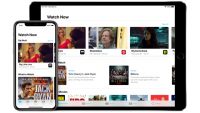 For those who have a PlayStation Vue account, Apple's TV App will "automatically ask if you want to connect to it the next time you open the app on your iOS device or Apple TV."
"Until now," notes TechCrunch, "Apple's TV App has featured content from both free and paid on-demand streaming apps like Hulu, Prime Video, HBO NOW, PBS Kids, The CW and others, along with those that require you log in with your pay TV credentials, like ABC, AMC, USA, SYFY, Showtime Anytime and many more." Now, "subscribers to Sony's pay TV service will be able to access all of Vue's on-demand content across its nationally available channels in the Apple TV App's Watch Now and Up Next sections," in addition to "national and regional sports networks."
PlayStation Vue competes in the same streaming service space as DirecTV Now, Sling TV, Hulu with Live TV, YouTube TV and WatchTV.
Yesterday, we reported that Apple is expected to launch its subscription streaming TV service in more than 100 countries in the first half of next year. The service will offer original programming free to iOS device owners while allowing users to sign up for third party services and TV network subscriptions.
Topics:
ABC
,
Amazon
,
AMC
,
App
,
Apple TV
,
DirecTV Now
,
HBO Now
,
Hulu
,
Hulu with Live TV
,
iOS
,
iPad
,
iPhone
,
Movie
,
Netflix
,
Pay TV
,
PBS Kids
,
PlayStation Vue
,
Prime Video
,
Recommendation
,
Search
,
Showtime Anytime
,
Sling TV
,
Sony
,
Sports
,
Streaming
,
Subscription
,
Syfy
,
The CW
,
TV App
,
TV Show
,
tvOS
,
USA
,
Video
,
WatchTV
,
YouTube TV