During the IFA trade show in Berlin yesterday, Panasonic unveiled its 65CZ950, a curved 4K OLED TV featuring the company's Studio Master Drive processor. Panasonic claims the 65-inch OLED, slated for an October release in Europe, is the most color-accurate display it has ever produced. It is also the first to achieve THX certification. Panasonic says the CZ950 series brings home entertainment closer to a cinema experience since it is fully HDR compatible and covers more than 90 percent of the DCI color space.
"The tech behind Panasonic's signature picture quality is its 4K Studio Master Drive processor," notes Digital Trends. "The chip analyzes every aspect of sharpness, brightness, and level of color accuracy, frame by frame, many hundreds of times."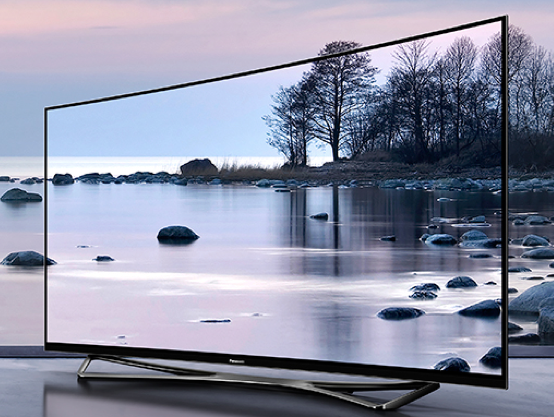 Panasonic brought in Hollywood colorist Mike Sowa ("Oblivion," "Insurgent") to test prototypes and identify deviations until the company achieved what Sowa describes as "the best display he has ever worked with."
According to John Archer's review in Forbes: "Almost as mesmerizing as its ground-breaking black level performance was the 65CZ950's handling of color. Panasonic's use of pro-grade 3D Color Look Up tables as part of its latest 4K Pro video processing system join forces with OLED's innate potential to deliver colors of exquisite subtlety and accuracy, clearly beyond the efforts of previous OLED screens. In fact, the extent to which the 65CZ950's pixel for pixel precision exposes inconsistencies and imbalances in other OLED models has to be seen to be believed."
Archer also said his "jaw sunk even further towards the floor" when he screened some high dynamic range content on the OLED display.
"The screen's already dazzling sense of contrast was lifted to a whole new level by the addition of HDR's wider luminance range, yet crucially the extra dynamics were delivered without any of the screen's sense of precision and balance being lost," he wrote.
Until now, LG has been the only major player to offer OLED televisions. And while speculation points to a $10,000 price tag for the 65CZ950, new competition from Panasonic could eventually lead to more affordable 4K UD OLED TVs.
Related:
LG Launches New 4K UHD OLED TVs, Forbes, 8/26/15
Topics:
3D
,
3D Color Look Up
,
4K
,
Berlin
,
Black Level
,
Chip
,
Cinema
,
Curved TV
,
CZ950
,
DCI
,
Display
,
Europe
,
Germany
,
HDR
,
High Dynamic Range
,
Hollywood
,
IFA 2015
,
Insurgent
,
John Archer
,
LG
,
Luminance
,
Mike Sowa
,
Oblivion
,
OLED
,
Panasonic
,
Processor
,
Studio Master Drive
,
Television
,
THX
,
UHD TV
,
Ultra HD