Netflix's first feature film "Beasts of No Nation," debuts at the 72nd Venice Film Festival, to be followed by showings at the Telluride and Toronto festivals. The movie, about a young boy recruited to fight a civil war in an African nation, was directed by Cary Fukunaga ("True Detective") and acquired by Netflix for $12 million. The movie will open on October 16 on Netflix and 29 independent screens via distributor Bleecker Street. Netflix also plans a comprehensive ad campaign and awards season push.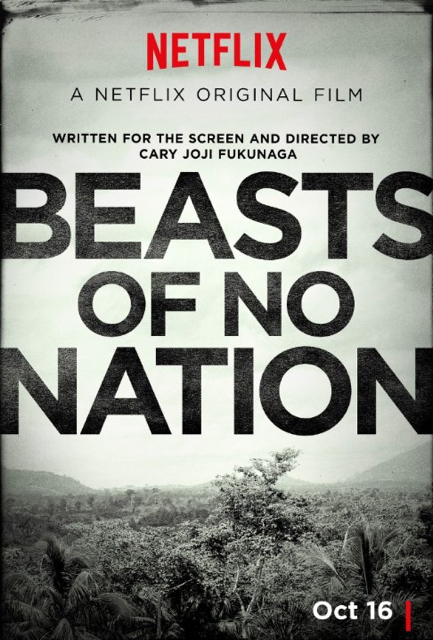 The movie is the first maneuver in Netflix's strategy to change the film business, just as it changed traditional TV viewing with its original series, reports Variety. The simultaneous release of "Beasts of No Nation" on big and small screens is an affront to theatrical exhibitors, who zealously guard the 90-day window between a film's theatrical release and its availability on home media platforms.
The major chains — AMC Theatres, Regal Cinemas, Cinemark Theatres and Carmike Cinemas — also decline any title not exclusive to multiplexes. National Association of Theatre Owners president John Fithian states that, "Netflix will have to prove its value to theater owners."
Netflix chief content officer Ted Sarandos believes that he is doing just that. With regard to another upcoming Netflix feature, Adam Sandler's "The Ridiculous Six," which debuts December 11, Sarandos notes in a Variety interview, that theater owners wrote him that they wouldn't show the movie. "I wasn't going to go to war with them to book the movie," said Sarandos. "I think they'll regret it."
Unlike theatrical distributors, and, of course, theater owners, Netflix doesn't rely on movie ticket sales, since its 65 million subscribers support its business model. Variety points out, however, that the 90-day window is already breaking down; Paramount Pictures has wrested an agreement for a shorter window for two fall releases with some chains, in exchange for a cut of VOD revenue.
Sarandos says he convinced the producers to sell "Beasts of No Nation" to Netflix because of its ability to bring in a global audience, and that it is a better economic model "particularly for films that are marketing-challenged." Amy Kaufman, "Beasts of No Nation" producer, agrees, adding, "There have to be more distribution opportunities for us to be able to keep making these films."
Whether or not Netflix's strategy is a true game-changer will soon become clearer. Netflix has spent more than $500 million for original content in the coming year. Upcoming feature film acquisitions that will play day-and-date on big and small screens in 2016 include "Crouching Tiger, Hidden Dragon: The Green Legend," "Pee-wee's Big Holiday," "Jadotville" and "The War Machine."
Topics:
Adam Sandler
,
AMC Theatres
,
Amy Kaufman
,
Beasts of No Nation
,
Bleecker Street
,
Cary Fukunaga
,
Cinemark Theatres
,
Distribution
,
Jadotville
,
John Fithian
,
NATO
,
Netflix
,
Paramount Pictures
,
Pee-wee's Big Holiday
,
Regal Cinemas
,
Ted Sarandos
,
Telluride Film Festival
,
The Ridiculous Six
,
The War Machine
,
Toronto International Film Festival
,
True Detective
,
Venice Film Festival
,
VOD