At CES, Nvidia introduced a new version of its Shield TV streaming box, featuring an updated design and support for 4K HDR. Available later this month, the $200 Shield TV now includes a remote and game controller. The box — which Nvidia claims offers three times the performance speed of any streaming competitor on today's market — runs Android TV and provides support for thousands of games and access to 4K content from Google Play Movies, Netflix and Vudu. It also features Amazon Video in 4K HDR, which is unusual for Android TV boxes. With Google Assistant also built-in, Nvidia may be looking to take on Amazon Echo.
Nvidia Spot (to be sold separately) is an always-on AI microphone peripheral that can be placed anywhere in your house.
"It's very similar to Amazon's Echo Dot, though it doesn't work fully standalone and requires the main Shield TV to function," reports The Verge. "The new Shield will support integration with the SmartThings smart home hub, which allows for control of many different smart home appliances."
So far, Google Assistant has been available on the Pixel and Pixel XL smartphones, as well as Google Home. "Soon, a lot of new users will gain access to Google Assistant via Android TV, thanks to a forthcoming update that enables the feature on Google's big-screen media operating system," explains TechCrunch.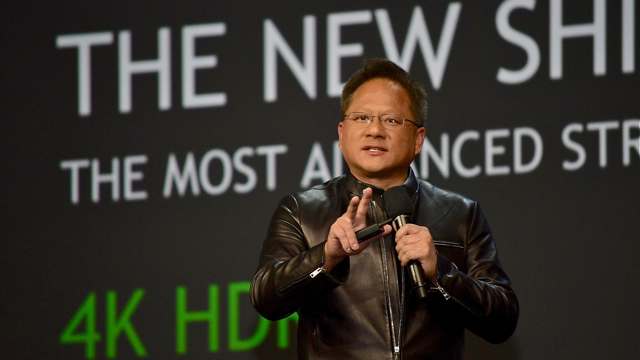 Integration of Google Assistant was announced during Nvidia CEO Jen-Hsun Huang's keynote presentation. In addition to the Shield streaming box, Assistant will "roll out to any Android TV devices running Android 6.0 or Android 7.0 in the U.S., including smart TVs and streaming boxes like the Xiaomi Mi Box," TechCrunch adds. "But Nvidia Shield gets the honor of being the first completely hands-free Assistant experience on TV."
Television is just the beginning, according to Google, which says that Assistant will be coming to other devices, including vehicle infotainment systems and Android Wear smartwatches.
Existing Shield TV devices will get access to new features via a software update. And later this month, Nvidia plans to roll out its $300 Shield Pro that will include a remote with headphone jack, controller and 500GB internal storage. For more information, or to pre-order, visit the Shield TV site.
Topics:
4K
,
Alexa
,
Amazon Echo
,
Amazon Video
,
Android TV
,
Android Wear
,
Artificial Intelligence
,
CES 2017
,
Echo Dot
,
Gaming
,
Google Assistant
,
Google Home
,
Google Play Movies
,
HDR
,
Headphones
,
Jen-Hsun Huang
,
Movies
,
Netflix
,
Nvidia
,
Pixel
,
Remote Control
,
Shield Pro
,
Shield TV
,
Smart Home
,
Smartphones
,
SmartThings
,
Streaming
,
TV Shows
,
Virtual Assistant
,
Vudu
,
Xiaomi Mi Box