Last Gadget Standing, which took place at the LVCC on Saturday, January 7, is a well-loved event in its 16th year. Created by Living in Digital Times founder Robin Raskin and guest emceed by journalist David Pogue, the event chooses — by live and online audiences — the "most likely to succeed product." The live event's winner — which is chosen by an applause meter — was the Matrix PowerWatch, which is powered by the wearer's body heat. The online winner was the Linksys Velop, a whole home wireless mesh system for robust Wi-Fi.
The event, which has its own website, features Pogue, lots of humor and a Vegas showgirl. To be eligible, the product must be from a CES exhibitor, new (from 2016) and set to ship by Q2 2017. "Kickstarter and Indiegogo campaign entries will be vetted as a reality check," said the organizers. Applicants' products are winnowed down to 25 semifinalists and ten finalists by "distinguished judges."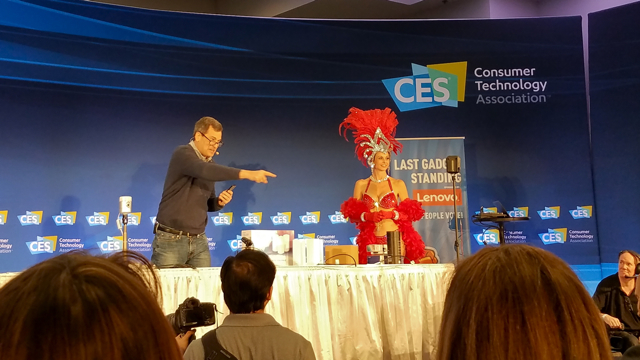 "The winners are chosen, not by critics or anybody with any qualifications whatsoever but by you people," said Pogue to the rowdy audience. "You can think of yourselves as an electoral college — and you should be abolished."
Each semi-finalist had four minutes to demo his or her product, and was interrupted by a rendition of "Hit the Road, Jack" if he or she went over. The audience agreed that the No. 1 pain point of a smartwatch is battery life and charging.
Co-founders Akram Boukai and Douglas Tham, who met as Ph.D. students at CalTech, introduced the Matrix PowerWatch, priced at $99, as "the first smartwatch to use thermo-electrics" of the user's body heat to power the watch. "There's a lot of heat in our world," said Boukai, who notes that a body at rest emits 100 watts and, when exercising, 1 kilowatt. The company has raised $800,000 on Indiegogo and the watch is expected to ship in July.
The online winner was the Linksys Velop, a stylish whole home wireless system that "provides 100 percent speed and coverage throughout the home." Its modular mesh design allows it to be configured for different types of homes, and keeps your devices connected to the strongest signal. It's also compatible with the Amazon Alexa for voice assistance. It's priced at $499 for a three-pack.
Ignition Design Labs' Portal, a semi-finalist, won a CES Innovation Award for its mesh network solution ability to speed-up Wi-Fi. It's available for $79 on Amazon. Roli Blocks are a modular musical kit. Paired with a free iOS app, the user has "a powerful music studio that fits in your pocket."
Kubo Robot is a game that teaches children as young as three the basics of coding visually. Co-founders Tommy Otzen and Daniel Lindegaard demonstrated how playing with Kubo is similar to and as simple as a children's puzzle. "It also teaches communication and collaboration," said the founders. The Kubo Robot is modular, and can add more advanced coding and language skills. Kubo is new on Indiegogo and is expected to deliver in summer.
UControl's Qkey applies chip and pin technology used by the payment card industry to online transactions. PicoBrew is a small, easy-to-use home brewing appliance, designed to brew craft beer with PicoPak ingredient kits from award-winning breweries from around the world, many of which aren't available retail.
Hubblo VR is a personal VR live-broadcasting platform, aimed at creatives, athletes and anyone interested in home security. It features 360-degree, 3D, 4K video/image capture, SD-card storage, one-hour battery life and iOS/Android compatibility.
The $200 Coros LINX Smart Helmet uses bone conduction technology to let bike riders listen to music, navigate via GPS and talk on the phone without earbuds. A walkie-talkie feature for groups that ride together will be available soon. Zmodo's Torch Pro is a front porch monitoring system consisting of a color-changing lightbulb with an embedded camera and a doorbell; it will be available for $199 on January 15.
Last, Canary Flex is an indoor/outdoor, weatherproof HD security camera that can be used wire-free or plugged-in. It keeps a record or let's the user watch live and supports Apple TV, iPad and Android tablets and Android Wear.
Topics:
3D
,
4K
,
Akram Boukai
,
Amazon
,
Amazon Alexa
,
Canary Flex
,
CES 2017
,
Coros LINX
,
Daniel Lindegaard
,
David Pogue
,
Douglas Tham
,
Hubblo VR
,
Ignition Design Labs
,
Indiegogo
,
Kickstarter
,
Kubo Robot
,
Last Gadget Standing
,
Linksys Velop
,
Matrix PowerWatch
,
PicoBrew
,
Qkey
,
Robin Raskin
,
Roli Blocks
,
Smartwatch
,
Tommy Otzen
,
uControl
,
Virtual Reality
,
Wearables
,
Wi-Fi
,
Zmodo Torch Pro