Netflix's latest quarter showed subscriber growth exceeding its own forecast and Wall Street expectations. Wall Street analysts predicted Netflix would add 6.5 million new subscribers in Q1; in fact, it added 7.41 million subscribers in that quarter, of which 5.46 were international. In response to the news, shares rose 4.9 percent to $322.85 in after-hours trading. This follows a 1.2 percent decline during regular hours on Monday, representing shareholder concern over the imminent announcement of stalled growth.
The Wall Street Journal reports that, "Netflix has been one of the fastest-growing stocks on the market so far this year as the company blew past expectations for U.S. and international growth." As a result, shares have "risen more than 60 percent in 2018, compared with the 0.2 percent increase of the S&P 500."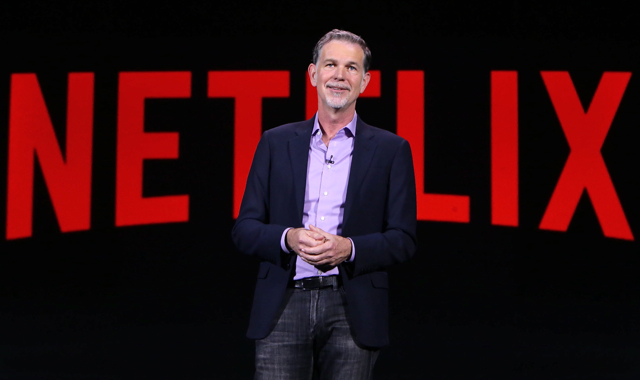 Earlier this year, Netflix revealed 2017 Q4 results that showed "it can still add domestic customers despite raising prices, a trend that continued in the first quarter." The stock from other tech companies, such as Google and Facebook, haven't performed as well in light of concerns over possible regulations. Netflix chief executive Reed Hastings drew the line between Netflix and those companies.
"We're very different from the ad-supported businesses and we've always been very big on protecting all of our members' viewing," he said, noting that Netflix plans to spend more than $10 billion on content and marketing this year and only $1.3 billion on technology. "We're much more of a media company in that way than pure tech."
With regard to future growth, Netflix, which currently has 118.9 million total paid subscriptions and 125 million total memberships, says there are currently around 700 million broadband homes outside of China. The company's international segment is now 55 percent of overall subscriptions and 50 percent of revenue.
The company has also struck deals to spur growth, such as a recently inked partnership with Comcast to bundle its service with Comcast cable TV/Internet plans, and a similar deal with European pay-TV operator Sky and wireless carrier T-Mobile.
Due to its heavy spending on content, "Netflix continues to be on track to have negative free cash flow of $3 billion to $4 billion this year," and forecasts "several more years" of negative free cash flow. By end of year, the company "will have 700 original shows and movies on the service … including 80 series specific to local, non-English-speaking markets." It has also signed top Hollywood creators, including producer Ryan Murphy ("Glee," "American Horror Story"), and Shonda Rhimes ("Scandal").
One recent bump in the road has been the company's dispute with the Cannes Film Festival, "which announced that it won't allow Netflix original movies to vie for the Palme d'Or, the highest prize, because Netflix's original films don't have theatrical distribution in France." Netflix chose to bow out of the festival altogether.
Topics:
Ad-Supported
,
Advertising
,
American Horror Story
,
Broadband
,
Cable TV
,
Cannes Film Festival
,
China
,
Comcast
,
Facebook
,
Glee
,
Google
,
Movies
,
Netflix
,
Original Content
,
Palme d'Or
,
Pay TV
,
Reed Hastings
,
Regulations
,
Ryan Murphy
,
Scandal
,
Shareholders
,
Shonda Rhimes
,
Sky
,
Streaming
,
Subscribers
,
Subscription
,
T-Mobile
,
TV Shows
,
Video
,
Wall Street