Niantic, the mobile games company famous for the "Pokémon GO" augmented reality venture has yet to duplicate the success of that 2016 mega-hit. "Harry Potter: Wizards Unite" and "Pikmin Bloom" fell short, and last June Niantic laid off nearly 90 people, about 8 percent of its staff. The company, which was incubated by Google, has a lot riding on "NBA All-World," its latest bid for AR virality on Android and iOS. The game releases globally this week. The concept is brand-to-boots: hoop enthusiasts are invited to play one-on-one or enjoy team time with their NBA favorites.
In a press release the interactivity is referred to as an "encounter." The interactions are sure to get more involved as compute power multiplies. For now, fans can recruit NBA players to their teams, "level them up and compete to become rulers of their local courts." In many ways, the concept is a breakthrough.
Built on Niantic's Lightship platform  — which evolved from "Pokémon GO" — the interface is the mobile device, at least at this stage. Not the most natural experience, but "NBA All-World" has observers speculating what the anticipated 2023 release of "mixed reality" Apple headgear might have, on this and experiences like it.
Niantic in fact has its own reference AR headset, developed in conjunction with Qualcomm, detailed in The Verge.
The NBA also has an ongoing agreement with Meta Platforms, and has firmly planted itself in Horizon Worlds with the Meta Quest headset. NBA virtual players may at some point be informed by well-trained AI datasets, executing probability-based moves and behaviors mapped onto their avatars, making them quite authentic.
The NBA is colorful and content-rich, and its announcements this week hint at the start of a new type of fan interaction that is likely to impact entertainment beyond sports. The National Basketball Players Association (NBPA) partnered with Niantic and the NBA to create "NBA All-World," indicating it is character-driven.
An estimated 62.5 million people played fantasy sports in the U.S. and Canada in 2022, according to the Fantasy Sports & Gaming Association trade group. "NBA All-World" emphasizes "basketball's communal aspect," according to TechCrunch, which scored the opportunity for a prerelease pickup game.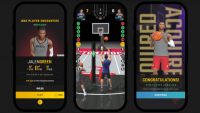 The geolocation-sensitive AR features allow gamers to "find, challenge, and compete against today's NBA ballers in their neighborhoods," per the NBA press release. The promo video at nbaallworld.com features Andrew Wiggins, who shoots hoops for the Golden State Warriors showing up for what appears to be a schoolyard IRL challenge.
Of course, players will have the opportunity to outfit their squads with the latest gear by searching for real-world drops from various brands, and will also be able to chat with friends in-game, engage in tournaments and compete for virtual goods.
Niantic's announcement says "NBA All-World" "extends the world of basketball into new augmented reality territory," adding that the game is free to download and play, available through the App Store and Google Play.
Related:
NBA All-World Hands-On: Taking Basketball Video Games Back to the Streets (Video), Engadget, 1/25/23
NBA Arena and Avatar Apparel Debut in Meta Horizon Worlds, ETCentric, 1/26/23
Topics:
Andrew Wiggins
,
Android
,
App Store
,
Apple
,
AR Headset
,
Augmented Reality
,
Avatar
,
Freemium
,
FSGA
,
Gaming
,
Geolocation
,
Google
,
Google Play
,
Harry Potter
,
Horizon Worlds
,
iOS
,
Meta Platforms
,
Meta Quest
,
Mobile
,
NBA
,
NBA All-World
,
NBPA
,
Niantic
,
Pikmin Bloom
,
Pokémon Go
,
Qualcomm
,
Virtual Gaming
,
Virtual Goods